Dealing with Disrespectful Stepchildren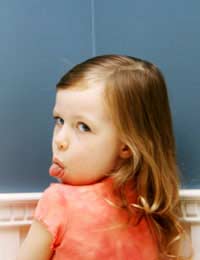 It can be very hard for a parent to deal with their disrespectful children, but even harder for stepparents, who may not feel that they have the authority to change the way that their stepchildren behave. Allowing kids to be disrespectful, though, isn't doing them any favours, as all children need to understand the importance of treating others with care and respect. Once a home environment of less than stellar child behaviour has been established, it can be hard to turn it around – but it is not impossible.
Establishing Reasonable Boundaries for Stepchildren
Every household needs rules. Society operates on a system of behavioural guidelines and one of the most important tasks of parents is to prepare their children to become well-functioning members of society, and that training begins in the home. Teaching children to speak and behave in a manner that honours other people helps them to understand appropriate behaviour as well as gives them a base of self-respect and good impulse control.
Children can and should be encouraged to express their emotions, but it is important that they learn to do so without hurting others. Disrespectful back-talking, refusal to comply with house rules, or selfish expectations are all examples of habits that children can easily acquire if their parents and stepparents do not show them that these behaviours will not be tolerated. Kids need to have a clear idea of what is expected of them and they must also be made aware of the consequences, should they choose to behave otherwise.
Enlisting the Help of your Spouse
Stepparents who have the support of their spouses have a much better chance of getting the stepchildren to treat them with respect and comply with house rules than those whose spouses fail to stand up and make their positions clear. Especially in the beginning, kids may be more inclined to take direction from their natural parent, rather than from a stepparent, who they may view as an unwelcome intruder. The adults in the home need to decide together on a set of behavioural guidelines for the children and then present them together, sending the message that obstinate or disrespectful behaviour will not be tolerated by either parent.
Setting Limits and Respectful Discipline
Teaching kids to be respectful requires that they be disciplined in a kind and respectful manner. It is unreasonable to expect that parents and stepparents can utilise harsh methods of discipline and then have children who do not emulate this type of behaviour. Kids may learn a bit from listening to a line-list of rules, but they are more heavily influenced by observing the important adults in their lives. Gentle, yet firm guidance will help kids to understand that they do not need to behave in disrespectful ways in order to be noticed and understood.
Breaking Through when Stepchildren are Stubborn
Some children seem determined to be defiant, despite the efforts of their parents and stepparents to garner their cooperation. Wild or disrespectful behaviour can be symptomatic of a variety of conditions, so if a parent finds that their children are out of control or disrespectful in more than one area of their lives (for example, they act out at home and at school), they may want to seek the advice of their GP to see of their child may be suffering from an undiagnosed behaviour disorder. Teachers and school officials may find it difficult to deal with kids who aren't able to control their behaviour, so seeking input from children's teachers can be invaluable. Effective treatment is available once an accurate diagnosis has been made, so parents should not delay in seeking help if they feel that their children's disrespectful behaviour may be the result of a physical or emotional condition.
You might also like...
Hi, why wasn't this site here when i needed it 20 years ago.... I always thought I was the only step mum trying to make things work out on my own & getting it sooooo wrong!.... I agree with Sharron about the WARNING would I have got involved with a man with children, would I do it again? ...No I don't think so with all that my family have been though to the point of moving right away to the other end of the country just to live a normal lifeaway from our close family & friends as his ex was stalking our house at all times of the day or night, Leaving nasty messages on the answer machine at 2am just to wake my baby, chasing me & my little one around town screaming in apsychotic way at me in the isles of supper market shops !... I was so embarrassed as i'm not one to air my dirty laundry in public as the saying goes. I tried so hard but no matter what I did it was never good enough I gave as much love & attention to the children as I could, specifically the younger one as she had a lot of emotional problemshowever that was thrown back in my face.never bad mouthing their mother to them as i knew this was a NO NO. Background: My husband & I were childhood sweethearts then went our separate ways some years later both having had relationships we rekindled ours by this time he had two daughters 7yrs & 5yrs. After moving in with one an other I found I was expecting which was a surprise as I wasn't sure I could have children. I made the girls as welcome as I could included them in all aspects of the pregnancy shared scans & talked though any questions they had tried to reassure them that they where always welcome & this baby was an addition to our family not a replacement, however their mother told them different, I tried, however nothing was ever good enough for them i.e didn't like the food, Pizza what child doesn't eat take away pizza? the holiday wasn't good enough wrong place & why did I go? Didn't like the movie but had nagged about going for weeks this sort of thing, over the years they have been nothing but disrespectful to my husband & myself to the point of saying to my husband he was crying crocodile tiers at his mothers funeral last year, only getting in touch when they want Money,never wishing their father a happy birthday or father's day. I have been married to their father for 18 years, cried buckets & buckets over the hurtful things his kids have said & done over the years, we have two boys together 19 & 17 now. I don't want to spend time with his daughters any longer as I've tried & tried over the years allowing them to treat my home like a hotel,speck to me like something they have just scrapped of their shoes & always kept quiet as i didn't what it upset my husband & his family however they are rude & disrespectful not only to me but their father too, which always came directly from their mother, their father was & is to soft feeling guilty for not being there more when they were younger but our boys are
sara
- 16-Jun-19 @ 3:35 PM
Another day.I do not want to see the kids.
Sammy
- 1-Jun-19 @ 1:36 AM
I feel everyone's pain, but you are all blaming the wrong person.Your step kids are not the ones you should be made at and resent, they are only doing what their biological parent, shows them is OK.Your partners need to be your partner and do their part to ensure that you are being treated respectfully.... Right now I see a bunch of partners that are being disrespectful by not making sure that you are being respected....would your partner be okay if some guy came up to you in a bar and treated you like that?What it comes down to is, you need to talk to your partner and tell them how you feel and the expectations you have.Make sure to tell them you aren't telling them what to do, but telling them what you need.Then ask if that's something they will do and if they don't, then get a clue and you aren't worth the effort to them, so go ditch them and find someone you are worth it to.Good luck
Pabstsmear
- 30-May-19 @ 9:25 PM
@mommyofonly2 Just read your comment, so so similar to mine.. only you're leaving and I havent taken the plunge yet.
Georgina step mom
- 8-May-19 @ 11:46 PM
I need some advice please, my partner and I both have 2 kids each from previous marriages. He went to prison 4 years ago and his daughter came to live with me, her mum isn't well mentally. She was 13 at the time and I've loved and looked after her for 3 years. The paternal family barely even called to check and see how we were getting on, although I updated my partner and his mum all the time. It wasnt easy, she was troublesome, she stole from me, she lied to me, she drank alcohol and smoked weed. I began drug testing her and banning her from going out each time she did something wrong etc. I am very hot on discipline and she admitted that she needed it as she'd never had that sort of support before. I was in regular contact with her school and her friends parents, and organised counselling for her, she was messed up, dads in prison and mums suffers with mental illness. She was telling everyone I was her mum and my kids were her siblings. Although it wasnt easy my kids never moaned or complained about sharing their home and their mum and eventually we all fell in love with her. We were all one big happy family. My partners mum had a spare room in her house for over 10 years but never thought to offer it to my step daughter. And aunts and uncles, none of them did a thing. Then all of a sudden out of the blue they went behind my back and told my step daughter she needed to move in with her gran (my mother in law) she packed her things and didnt even tell me she was leaving. I found out via a txt from the gran telling me the room would be ready for her in a few days.. When I questioned my step daughter about it she said does it even matter where she lives and said she was going so that she could have her own room (she was sharing with my daughter). I was devastated and it showed, I lost my temper with the gran, and the uncle as they were accusing me of having withheld her from them and that I should've been informing them of her every move. I was doing telling her dad everyday but apparently that easnt good enough. It's been 4 months since she left and admittedly my household is a lot calmer, my kids are happier and have since admitted that they prefer it now shes gone. My partner though is being ridiculous and still cant understand why I got upset. His daughter and whole family have cut all ties with me as if I'd done something wrong. When I txt his daughter to ask how she is, she replies 'im fine' and then doesn't bother to even ask me the same back. She calls when she wants me to do something and is rude and hostile towards me. And he still cant see that she is doing anything wrong.. He has another 3 years left in prison, am I wasting my time on a man that cabt even support me or defend me to his family??
Georgina step mom
- 8-May-19 @ 11:34 PM
This article is spot on. Trying to handle a 16 yo now who, after 7 years, "hates me" and won't come over now, because "I try to parent her." By parenting her, she means me having any say in how our household is operating. She doesn't want to do things our way, like not spend the night with her friends on a school night, so she spreads 100% lies in order to not have to come over (and it's a shared parenting agreement where time is split 50/50. I've only shown this girl love so this is very hurtful. Not to mention my relationship, my 4yo daughter (with the dad) and my sanity...
Agreed but difficult to leave...It is not worth to waste your emotions on stepkids. At least I am stopping that now. If I do not see them for a few weeks, I do not miss them. I realized that. I would rather spend time being with him, my friends and traveling on business. I see them because I have to. Not because I want to.So when I am w them, I sometimes think why I am here w them...as I feel no existence of myself. But when kids are not around, I am happy and enjoying my life.
Marie
- 30-Apr-19 @ 11:38 AM
LEAVE! My ex-fiance's kids turned out to be selfish/immature/easily offended/grudge holding/perpetual victims that were disrespectful to him, his happiness, me, and us. My ex's kids were raised to be the center of the universe, they expected me to bend over and prove myself. I don't bend over nor feel the need to prove myself to anyone, especially kids. When my ex's kids manipulative tactics failed on me, they ran to him and whined. To which he took their side and yelled at me because I upset them. You can see how that relationship blew up. My parents were divorced and we were disciplined if we mouthed off towards my parent's new spouses. If you don't mind being an emotional punching bag, then by all means stay. If your boyfriend/husband doesn't lay the law with his kids and support you, then why would you want to be in that situation?
Jennie
- 26-Mar-19 @ 8:40 PM
WARNING!!!!!! If you are single and seeing someone with children.LEAVE NOW!!! it will only end in heartache and bitterness and crying yourself to sleep wondering why these sweet looking child/children hate you?19 years Iv tried so hard to be the best step mum.Alway making sure my stepchild was included and felt wanted and loved and making such and effort to try and make my stepchild happy.But I just get ?? on every time.Who would think a 5 year old could be so mean and horrid.Yes it true they can because I know.But I thought it would pass and they would realise how good I am to them and they would grow to love me back but at 24 years old this child still hates me.?? dummy here has just now decided she is giving up on wasting her time on this horrible human.Mummy to 3 children and a horrible stepchild.Sorry if this offends anyone just needing to get that off my chest and maybe save some young womanor mans life.
Sharron
- 22-Mar-19 @ 6:11 PM
Hi I need your advice. My partner and I share two boys from his previous marriage. 50% of time they are with us. We came a long way and his ex is friendly. She has a nice fiancé also. My partner is suggesting to spend more holidays together for kids. I like everyone but I am the only one who does not have my own child. When three parents are together with kids, I feel extremely lonely. I almost feel I do not want to be there. They can spend time together. But I am afraid of upsetting my partner. I am so tired of just thinking about it.
Sarah
- 25-Dec-18 @ 6:22 AM
I've been with my husband for 2 years now. Weboth have children of our own, and have separate households as he has his children half of the time and I could not bear to live with them. His daughter is the worst girl I've ever met. She is extremely obnoxious, loud, precocious for a her age (not smart, but in the adult way), and a bully toward my daughter and my self. She manipulates her father and gets away with everything she does, all she needs to do is cry, and her father just tells her that she doesn't need to cry, that everything is ok. She always has to go first, she is the middle child as her brother is older and my daughter is months younger than her. Both of the kids have to do what she says, otherwise she cries and the other 2 get in trouble. She manipulates my husband, denies everything she has said and done to me and to my daughter. I am tired of not having the support of my partner. I finally lost it and I told my daughter she is a "trashy" girl. My daughter has always wished for a sister, and she sees her a such, and loves her. So she told her what I said, of course she started crying and her father is demanding me to apologize to her. However, whenever she does something to me he just turns things around, doubts me and says that I am inventing things, bc his daughter would never do anything bad. He is completely blind and I am tired of his lack of suppport, of him doubting me, of him being a bully to my child, of him being so permissive with his children. I do not know what to do bc I do love him, but I don't see a future bc of his children, specially the daughter.
Step mom
- 8-Oct-18 @ 2:46 AM
I discovered this site through a google search in a desperate bid to get some advice and tips on being a stepparent. I live with my partner and his 5 year old- it's a long story but he has had her on his owns since she was a baby. Things were going well and I was doing great at adjusting to being a step-mum. But just lately I am really struggling with getting her to listen to me, and it's since she has been spending more and more time with her bio mum. I know and understand that she is only 5 but she never listens to me, and is more likely to listen to other people, she blatantly disregards anything I am asking her to do or not to do, and thinks that she can do what she wants all the time. I know kids can be difficult sometimes but just lately it is all the time. I try to be nice to her and discipline her as and when I have to but nothing seems to be working and it's all getting to me to the point where I have to lock myself in the bathroom for half an hour and cry my eyes out. I am not sure if her bio mum is saying things to her about me as I am not around when she has to go and see her (which is once a fortnight) because that's just the type of person that she is, or whether it is just a phase the little one is going through but right now I feel so lost and all I want to do is cry all the time because I am overwhelmed and just don't know what to do. My partner helps me as and when he can but I'm really struggling with getting her listen and respect me....
AnnaB
- 21-Aug-18 @ 2:12 PM
My husband & I have been married for 8.5 years & together 10. He has 2 children of his own & one that he raised not knowing if is his or not. I have 2 of my own. From the very beginning his children lived with his mother, as the kids mom was in prison. When we got together I already had my own place. He moved in to my place with myself & my children. For 3 years we only got his kids every other weekend which was great cause they weren't living with us full time. All girls & all drama. Then when they're mother was rehabilitated she wanted her girls. He glady gave them to her. That only lasted 3 years & mom started doing & selling drugs. The oldest now 17 wanted to stay with mom the middle one went back to grandma's & we got the youngest at 12. For the last 3 years that we've had her it's been hell. She's been caught smoking weed at school the 1st year we had her, second year was kicked out of school for writing an offensive saying to a teacher on the white board & now at age 15 we find empty beer bottles in her room. Needless to say I'm finally done. I will not allow her to corupt my 10 year old son. My soon to be ex husband only gives her a slap on the wrist. All his kids have been very disrespectful & have stolen my things. I can't believe it took me this long to finally leave. Please say prayers for me that I can find a place that I can afford. I'm starting over from scratch. I want nothing but my bed & kids beds. Sincerly, FED UP Mommy of only 2!
Mommyofonly2
- 20-Aug-18 @ 2:23 AM
I'm really lost right now. I have been dating on and off a widower for a year with three children aged 5,6,9. I have two boys aged 7 And 11. My (now ex) has the children full time where as I have mine half of the week. I took on his kids with open arms..I even visted their mum's grave at Christmas to support them. I played with them, chatted with them and treated them as my own. I also had my boys too and tried too treat all the kids the same which I did. I was fun and exciting. My ex doesn't have rules with his kids and they trash his house, they kick, spit , fight and name call their dad and my children.Their dad also smacks the two boys a lot which I don't like. I have also had my ex call me nasty names too. He says sorry and says he will make things right and he knows he needs to sort a routine with his kids as they stay up until 10pm most nights. But nothing really comes about. I did reward charts etc but my ex never followed it through so I stopped helping. I did notice he guilt tripped me over his children a lottoo and seemed to forget about my boys ? When myself and my boys stayed at his, his children would kick, hit and call my kids. I tried to be fair and tell all the kids it's wrong. I feel my ex put a lot of pressure on me to be mum to his kids. He didn't really like me doing my own thing and put his children on me emotionally a lot. As the months have gone by his kids have gone worse and his 6 year old bullies my 11 year old! He calls him fat, ugly, I don't love him, he's rubbish at everything . My son knows he can't hit him as he's only 6...His same son and his youngest does it to my yougest too. My son hits back but I then have to tell my son it's wrong to hit!I tell my ex what his boys do and he just smacks them!? Yet with my boys it's toys taken away, time out, teach them right from wrong! Things got so bad last week on holiday because his 6 year old picked on my eldest so bad my eldest went mental at me. Turns out he was so angry and hurt at constantly being picked on. I approached my ex who called my son a big baby and started saying it's because my sons hates women he's angry. It hurt me very bad!! Next day I went to the beach alone with my boys, had a great time too! But my ex followed with his kids near us...to top it off my ex bought his kids a toy beach rocket knowing my kids wanted one too. My boy's watched upset as they played asking why my ex just sorted his kids out? We didn't speak for a couple of days as I was so upset. We eventually sat and spoke but his kids started again with mine. I can't tell his 6 year old as he just laughs at me. When my kids tell my ex what his son has done he turns a blind eye ... It's been such an eye opener as to how he feels I should be with his kids 247 be their mum and feel their behaviour is acceptable? They don't clean up after their mess, have no toilet manners, greedy with sweets and food, trash the house...ye
Beckyloub211082
- 15-Aug-18 @ 11:02 PM
@Ash - it's always tough. How is your partner with your kids? The thing is we always view our own kids through rose-tinted glasses. I love my kids obviously, but my wife hates my kids. Yet, she praises her kids all the time (who in my eyes one comes across as being nice but is sneaky and the other rude and obnoxious). It's been four years both of us with two kids each, mine only over every other weekend. In fairness, I think it's hard taking on another person's kids when there are resentments. But it's taken its toll on our marriage and we are on the verge of separating because of my kids not hers. I am expected to put up and shut up, which I do most of the time. It is always about her kids, never mine. I feel guilty about that and try to make up for it with my kids, which the wife resents. Mine feel left out and they hate her for favouriting her kids first so it's lose all the way. Just showing it from the other side.
Jim66
- 23-Jul-18 @ 10:00 AM
It's been 5 years. The first year was great.... then I watched it all begin to unfold. After BM met me and was completely disrespectful the SS started to be the same way. Playing a victim to his father and acting as if he was so unhappy because of me. And as it all came out he admitted it's because I have rules and chores and because I don't buy him things. Seriously! It's an interracial relationship and BM likes to refer to me as " the white girl". SS won't listen to a word I say unless it's beneficial for him. I've told his Father Time and time again how tired I am of it. But SS's manipulation is unreal. There's always an excuse for him. He lies, sneaks out of the house and thinks buying dad gifts or doing good in school or in a sport makes things better (sick to even say, it does) I'm at my limit. He is a senior this year so I thought to myself... just one more year. But now him commuting from home to school is being considered. I have 3 children of my own. Their dad a drug addict, alcoholic who's in prison currently... they witnessed abuse and had it rough for so many years yet they are the most caring, respectful kids and I'm proud of them. I wouldn't make excuses for them if they weren't. I'd set them straight. I'd not stand for disrespect. Needless to say... I'm ready to move on with my life. This tidbit I've written is only a small piece of what I've experienced. I'm turned off by the fact that a child and his mother can work a grown man like a puppet.
Ash
- 22-Jul-18 @ 12:54 AM
I met my partner just over 2 years ago. He lives with his 18 year old daughter full time and 14 year old daughter splits her time between us and mum who lives locally after leaving a few year ago. We now have a baby daughter together and both are very good with her and accepting but eldest is very critical of my choice to breastfeed and generally any parenting decisions I make. She herself is desperate to settle and have kids but seems to think she can do it all better than me. Her attitude and behaviour generally isn't great, all the family complain about how she strops when she can't get her own way. I've tried hard to be understanding of everything that's happened in the past but now that I have a baby her criticisms hurt. I don't see her leaving home any time soon but am struggling to see where I will get the strength from to carry on. I often feel like taking my daughter and running away but I love my partner and want to be with him.
GemmaT
- 24-May-18 @ 5:48 PM
@Charlie I am separating from my partner I have decided to live alone as after only a year I cannot tolerate the stress and the resentment I feel towards his daughters. I am moving back to my flat that I had before I lived with him, it feels sad and a backwards step but I am too weary to continue. I don't know how or if we will continue in our relationship as any mention from him of them makes me feel ill and they have created such a big division between us. I really thought I could overcome these issues but I was wrong and I don't want to live miserably either! I just wanted to share this as this is a valuable site as at least I know I am not alone.
Lauren
- 17-May-18 @ 1:58 PM
Thank you everyone for sharing..very difficult, frustrating. My bf evicted his 25 y.o. disrespectful man-child. We have his 12 yr old full time. He tries to act much like his older brother. His behavior has extended to write ups on a wkly basis being sent home, suspended, does not want to respect any authority. Will mostly tow the line when dads around (towards me) but still responds in front of him very rude, or tries to ignore what I say. Idk why my bf finds it so hard to discipline him more appropriate for his age..sense, "if you want to be suspended, we have a lot of chores at home for you those days", I've explained to my bf that if he doesn't get more tough on him, it will soon be too late I fear for his behavior to improve. He sees his mother on a regular basis, we get along with her, therefore that is not his issue. Big brother is now living with mommy so now 12 yr old sees him as well on a regular basis. My thing is this, either bf will stand behind me on making changes or I simply will not have it. As much as I love my bf, I will not live miserably for the next however many yrs. No thank you!
Charlie
- 15-May-18 @ 10:19 PM
@Ann - you're so right. I've tried. I have sooooooooooo tried and I have had enough! I just cannot deal with the dread of knowing they are coming over which lasts for days. Then I am so relieved when they have gone. I can't continue to go through this. Who knew the effect three small children could have on an adult person.
Mich
- 15-May-18 @ 2:32 PM
One of my biggest problems is the parents who watch the kids being disrespectful and ignores it until you the adult start lashing back now they hear the convo and wants to intervene and check the adult for how they are talking to the kids meanwhile the child says and does whatever they want without boundaries or consequence
Jay
- 14-May-18 @ 1:43 PM
@Sinem - such a sad story, but if you have to move you have to. The fact you are sidelined and can't even eat with your hubby because the kids are jealous is not good. Take a step back. It doesn't mean you have to leave your relationship. But maybe living apart until the kids leave home is the best thing to do. Best of luck - hugs. remember - it's your fault - judging by the comments on here everyone feels the same.
Elliec
- 10-May-18 @ 2:30 PM
Same here suffering and ready to leave my beloved husband because of stepkids. 13 yr old girl and 17 yr old boy. Boy is fine he hates my guts by at least he is respectful. The girl is driving me up the wall. She is so rude mean spirited andspiteful little girl. From day one I tried to find common ground to be friends with them but they hate my guts. I have been called idiot, I should leave their home even though they come 2-3 days a week they want me to leave. Their mom is dating but she's too tough unlike they're dad they are not giving her hard time as much as I'm getting it. Today I finally spoke to my husband and I told him I am moving out. Cannot take this anymore. My husband is too nice he doesn't want to be tough to them. I cannot even sit with him to eat while kids are around in case they get jealous. We always sit in separate rooms ( he with kids me if I'm not out I stay in my bedroom). This is no life. I'm sure God will forgive me if I leave this stressful marriage.
Sinem
- 9-May-18 @ 2:45 AM
Omg. I know the feeling. I am constantly being disrespected, yelled at, cursed at by one SS. He is so mean, thinks he is a badass, treats me SM like crap. Only when his dad is not here lately he's doing it around his dad now. I have tried numerous times to talk to his dad about. He doesn't take it seriously. Take phone away. Wow ok. That does nothing for him. He does again and again. Its been two years since its been this way. I am so ready to leave. Our marriage is breaking down because of this. I can't live in this household anymore the way he acts. I can't be myself. I cant laugh. I'm on eggshells around him. He's 13 and very selfish. I cant cope. I can't talk to him. Tried that. He hates me. Everyone is saying it's his puberty. Uh no. I don't believe that one bit. He is nice to everyone else but me. Disobeys house rules. Messy room. Cant flush toilets. Ridiculous.
I struggle with many of the same issues. My two step sons are spoiled beyond belief by their mother and her parents. (They could literally bully another kid to the point of the child changing schools and they would say that the bullied kid just isn't smart enough to get their humor)Their stepfather is so quiet and a bookworm and they walk all over him. Their mother does nothing and only cares about signing them up for as many baseball teams as possible because "they're the future of the MLB." Their mother and her parents wait on them hand and foot and tell them they are perfect and not to listen to anyone that tells them differently. When they come to stay with their father and I, I'm always overcome with dread. Simple tasks like closing an exterior door or flushing a toilet are too strenuous for them and they only follow rules if their dad is within their range of sight. They often lie to myself and my parents (we live in and pay rent for their in law apartment) and have complete disregard for the hard work we put in to keep our home clean. Their mother refuses to work and instead babysits because a regular 9-5 is too stressful and exhausting for her yet she is on the horn the second child support isn't in her hand starting the morning of payday. She has a history of withholding the kids from my SO because he refuses to give her more money than mandated by child support and often talks poorly of him in front of the kids and frequently makes jabs at me for not always being able to go to the kids practices and games. She refuses to discipline them and if she does she almost immediately changes her mind because she doesn't want them to be mad at her. They often decided that they want to go home if we cannot afford to take them to theme parks or expensive events that they're mother said we would take them to without talking to us and it seems that no matter how many times we repeat ourselves they just don't want to have to do anything. I love my SO so much but he hates when I try to explain that his children need to be more respectful and to follow simple expectations. I'm starting to wonder if I should call off our engagement because of them even though it would be devastating to lose our relationship.
@EssieM @TashV - so many of us women still focus on the needs of others without putting ourselves first. Sometimes I feel like I'm going to explode as there is no escape. I have a step daughter and 2 stepsons - every week there is a different issue and even though they live with their mum, it takes me days to recover when they go home and I spend the rest of the time analysing their behaviour and what they said and the tone they said it, enough to drive me bonkers. I'm suffering for my sanity. I'm with you all the way...LOL.
Laur78
- 23-Apr-18 @ 1:53 PM
@TashV Thank you for taking the time to post in reply. As much as I'm saddened to here your situation is similar to mine, it helps to know someone understands and I'm not alone. I've been encouraged by your approach and am going to focus on trying to tolerate my SD whilst keeping my own personal boundaries ie try to walk away from manipulative behaviour even when DH chooses not to. I am also going to focus on myself and my needs first which I haven't done since getting married. I wish you strength for your situation and hope you find a way through x
EssieM
- 21-Apr-18 @ 4:25 PM
@EssieM - the fact you have a good relationship with your SD is good and the fact your SS is not living with your surely must help somewhat. It's understandable your husband wants to support his son, he is his son after all and it's made even more difficult if he has mental-health issues. At the same time I understand how difficult it is to remove yourself from the situation when you dislike your SS, it seeps through even if you try to let it not and even if you don't see him. I don't like my partner's sons. I tolerate them. I find them cold, unemotional and selfish to me yes, but even to my partner who doesn't see it. I've asked him to stop mentioning them - but it doesn't work. I'm at breaking point too - because sometimes there is seemingly no way out. I can't really help with advice as I need it myself - but I can say I empathise and you are not on your own.
TashV
- 19-Apr-18 @ 3:24 PM
After 2 years of disrespect, silent treatment, rudeness and other things, from my SS, he admitted to doing it on purpose saying he hated me. His mom walked out on him and his sister as children after having multiple affairs. His birth mom neglected him all his life until the past 5 years. I accept she is his mom and he doesn't want to see anything negative about her - both kids are emotionally scarred and SS is in denial about his mom abandoning them. My husband has never given them responsibility in the house or boundaries but they were pretty well behaved if a little pampered. SS is now 20, suffering a mental illness (which he was being supported in my me and his father until he decided to quit the treatment program) and is very immature. He accuses me of being cruel and unkind to him and his sister which is totally untrue when I've treated both with patience and love. SD is younger but more mature, we have a good relationship.SS chose to move in with his mom 3 months ago but continues to disrespect me and tell lies about me. He manipulates his father who gives in and doesn't address his behavior as much as I think he should and ignores a lot. I feel unsupported by my husband who is stuck in the middle but wants to be buddies with his son. I am trying to disengage from SS but finding it extremely difficult (any advise please?). I am distancing myself from his parents and family who know the situation and take SS side. I'm in a lonely and isolated position and at breaking point in my marriage.
EssieM
- 17-Apr-18 @ 9:37 PM
@victoria - it's not good if it gets physical. This is more about your other-half than his kids. Your OH shouldn't shove you in front of anyone. If my hubby tried doing this to me I'd walk.
Christinex
- 12-Apr-18 @ 3:42 PM