Dealing with Disrespectful Stepchildren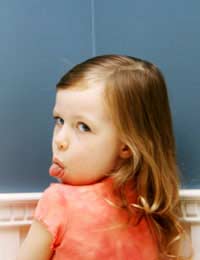 It can be very hard for a parent to deal with their disrespectful children, but even harder for stepparents, who may not feel that they have the authority to change the way that their stepchildren behave. Allowing kids to be disrespectful, though, isn't doing them any favours, as all children need to understand the importance of treating others with care and respect. Once a home environment of less than stellar child behaviour has been established, it can be hard to turn it around – but it is not impossible.
Establishing Reasonable Boundaries for Stepchildren
Every household needs rules. Society operates on a system of behavioural guidelines and one of the most important tasks of parents is to prepare their children to become well-functioning members of society, and that training begins in the home. Teaching children to speak and behave in a manner that honours other people helps them to understand appropriate behaviour as well as gives them a base of self-respect and good impulse control.
Children can and should be encouraged to express their emotions, but it is important that they learn to do so without hurting others. Disrespectful back-talking, refusal to comply with house rules, or selfish expectations are all examples of habits that children can easily acquire if their parents and stepparents do not show them that these behaviours will not be tolerated. Kids need to have a clear idea of what is expected of them and they must also be made aware of the consequences, should they choose to behave otherwise.
Enlisting the Help of your Spouse
Stepparents who have the support of their spouses have a much better chance of getting the stepchildren to treat them with respect and comply with house rules than those whose spouses fail to stand up and make their positions clear. Especially in the beginning, kids may be more inclined to take direction from their natural parent, rather than from a stepparent, who they may view as an unwelcome intruder. The adults in the home need to decide together on a set of behavioural guidelines for the children and then present them together, sending the message that obstinate or disrespectful behaviour will not be tolerated by either parent.
Setting Limits and Respectful Discipline
Teaching kids to be respectful requires that they be disciplined in a kind and respectful manner. It is unreasonable to expect that parents and stepparents can utilise harsh methods of discipline and then have children who do not emulate this type of behaviour. Kids may learn a bit from listening to a line-list of rules, but they are more heavily influenced by observing the important adults in their lives. Gentle, yet firm guidance will help kids to understand that they do not need to behave in disrespectful ways in order to be noticed and understood.
Breaking Through when Stepchildren are Stubborn
Some children seem determined to be defiant, despite the efforts of their parents and stepparents to garner their cooperation. Wild or disrespectful behaviour can be symptomatic of a variety of conditions, so if a parent finds that their children are out of control or disrespectful in more than one area of their lives (for example, they act out at home and at school), they may want to seek the advice of their GP to see of their child may be suffering from an undiagnosed behaviour disorder. Teachers and school officials may find it difficult to deal with kids who aren't able to control their behaviour, so seeking input from children's teachers can be invaluable. Effective treatment is available once an accurate diagnosis has been made, so parents should not delay in seeking help if they feel that their children's disrespectful behaviour may be the result of a physical or emotional condition.
You might also like...
OK, so... I've known my partner for 20 years, we were very close friends for 16 of those and then we began to date. We ended up living together immediately and about 3 mos in had 4 of his 6 children living with us. The eldest that came to live with us is not even his biological daughter. She belonged to his ex wife and another man. My partner adopted her when she was about 5. The children's bio mom is a drug addict and a very volatile person who had her children living in squalor. They were not being fed properly or made to attend school. When the first came to live with us 5 years ago... Things were OK. It quickly changed tho. The eldest was 12 and a mouthy, lying, drama starting little brat. She did everything she could to cause as many problems as she could. One of the biggest issues was her lying to child services. She told them we locked them in their bedrooms, refused to allow them to use the bathroom, shower or eat. Child services obviously knew this was untrue right away, being that the children were all clean, appeared to be well fed and there weren't even locks on their doors. The eldest daughter only lived with us for about 18 mos before the court removed her based on the fact that she was physically abusing the smaller children, one of which was my own son. Their ages ranged from 3 to 7. Well, the eldest daughter was eventually placed back with her mother, who couldn't care for her and is now 17 and living with a 25 year old man. She doesn't attend school and is basically a loser. The courts don't seem to care tho. As of now the bio mom hadn't sen her children in nearly 2 years and doesn't seem to have any plans to. Currently the children are now 8, 10 and 12 and my own son is 12. The two youngest daughter's are the main problem. They are so defiant. They will not do what they're told, they get into trouble everyday at school, they steal, they lie, they are violent and just generally awful to be around. The 10 year old girl seems to mentally be only about 5 or so. When in public she has her hands in her pants, she rolls around on the floor, she yells and talks gibberish very loudly. As of late she seems to be very obsessed with private parts. Hers and others. She also plays with her own poop or any she may find outside. Nothing I do can get her to stop. The 8 year old is just mean and nasty and can lie to you without missing a beat. She creates elaborate stories and was running a store out of her desk at school with things she had stolen from the school store which is only open on weds. She was charging kids double what the store was selling things for. When asked how she was stealing (she stole hundreds of dollars worth of stuff) she said "I waited until the lady was helping another kid and was distracted and I would fill my pockets" I was mortified. The school called the police and she and I were forced to attend a meeting with the officer and school administrators. It made absolutely no difference to her what so ever. I b
Fed the F up!
- 25-Mar-17 @ 8:10 PM
My grandson age 11 was so sweet at age 9 and before.My daughter got married last summer to a fellow they had been living with for almost 3 years.He wants this and this and that now.His friends have ithem why can't he why can't he. and he has also been searching through drawers etc in his parents room when he's home alone after school.He thinks that sex is dirty and ugly and that if parents look it his room he can search in their room. He was taken away from a bad situation with his father and mother left when he was around 4--father doing drugs etc. and being abusive to his mother--so she got away from him by going to a shelter.Eventuallyly she worked as acook and bartender to earn enough to make it on her own. Met her future husband and spent 3 years living with him in the house they own in a great area of a city.I just believe that they should tell him that they have a camera installed in their room and they will know if he's been in there.My daughter said that her husband checks his room out at times so grandson believes he can check out theirs.I don't agree and neither does my son in law. A child has no right to go through his parents drawers.How can they solve this?
Teresa
- 4-Mar-17 @ 9:41 PM
@bobeva - Wow! That is pretty tough going. If you are working alongside your OH and you have his support and you are both on the same page then this will help. But it's not going to be easy for you, especially as he develops into more of a teenager. What does your OH say? Can he discipline him? The thing is you know what you are letting yourself in for and you have still decided to marry your man. You will need to be strong. This will not be an easy ride :(
Sheppy
- 22-Feb-17 @ 2:14 PM
Sigh... where do I even begin? I have been with my fiancé for two years (I have known him for 14). I love him dearly, and he loves me, we make a great team and have many plans for a long future together. But it can't all be perfect, unfortunately. His son, who is now 12, is literally the worst child ever. In his defense, he has several issues beyond his control: he was born with a heart condition that left him with inadequate blood oxygen saturation during the first three years of his life, which has caused some neurological issues (of the emotional variety), he also has ADHD, and on top of that, his mother is a drug addict who abandoned him. He hasn't seen his mom for 4 years. Despite all of these issues though, it doesn't make his terrible behavior any easier. He is argumentative,he is defiant, he is disrespectful,he lues, he steals, he won't do what he is asked to do on most occasions. He has zero empathy for others. He just does not care about anyone but himself and his needs. He will defy or disrespect me one moment, then walk in the room five minutes later, with a smirk on his face, and ask "whats for dinner?" When he gets disciplined, he will throw the biggest temper tantrums in the world, banging things around, hitting walls, screaming bloody murder. If you try to send him to his room, he refuses. You tell him that if he comes out of his room one more time and he will be punished,he'll wail,"no, no, no", then come out of his room! He has to be reminded constantly, daily, multiple times a day, to do things that have been expected of him for almost two years: turn off the light, wash your hands after going to the bathroom, rinse your dish after dinner, flush the toilet. He doesn't bring home his homework,lies about having any, but then when we find out from his teachers that he does have homework, he says "I didn't know" to which we tell him that it is his responsibility to know what his schoolwork is and to bring it home, and the next day we do the whole song and dance over again. There are signs strategically placed throughout the house to remind him to take his medication,12 signs total, and he still forgets. And now he thinks he doesn't need it, he doesn't see the connection between taking the medication and doing better in school. He has been suspended from the bus and the school already this year, in 6th grade! He still doesn't believe he dud anything wrong on the bus (he was loud and walking around and saying vulgar things after the driver repeatedly asked him to stop, for days in a row).He is the worst. He has the attitude of a teenaged thug, and the emotional maturity of a 6 year old. And we can't get any help because we are on state medical and can't find any providers who will help us. I think he is a sociopath. I am seriously afraid he will grow up and murder us one day.
bobeva
- 22-Feb-17 @ 1:31 AM
I live with my partner and her two sons, currently 15 and 12.Now I know kids are kids but things are at breaking point as whenever I ask the kids to things around the house, namely keep bedroom reasonably tidy and take dirty pots to dishwasher I'm seen as the big bad person not only by the kids but also my partner. This then causes friction between me and my partner because I don't think asking them just to clear up after themselves isn't too much to ask. My partners ex left about 3 years ago and my partner feels threatened that if the kids are in a "happy house" then they will want to move out to their dads. It's causing relationship problems and I'm at the point of thinking it's best if we end our relationship because of the differences.I love them all to bits but don't think we are creating a realistic environment and teaching the kids about indiviual responsibility which I feel is a must for our younger generation. Any advice is appreciated. Thanks
Bear
- 17-Feb-17 @ 10:35 AM
@stressed. This is purely down to a difference of opinion. Your ex may have reasons for acting the way he does and let's face it, we are all a bit soft when it comes to our own kids. I can understand your point of view too as it is still really your home and your territory. But this is what marriage is - it's a compromise and we all have our individual foibles. The first year or so is always the most difficult. I found the first year with my step kids hellish - but we've sorted most of our issues now. Best of luck with sorting out yours. Our kids our our kids for life and they are with us for life - Eve.
Missy**
- 14-Feb-17 @ 2:31 PM
Ive just got married and my husband has moved into my home where i live with my 24year old son and his girlfriend who are looking for a flat. My elder son and daughter live in their own rented flats as do my husbands daughter and his son. All of them work and never ask us for anything except my husbands son. Hes 21 and on benefits which he spends on drink, going out and drugs. When my husband had his own flat the son would turn up expecting to stay for days on end to eat and drink and use the internet and electric as he had none at his flat after blowing all his money in a couple of days. Now my husband lives with me he still expects to do this at my house and ive said he cannot stay and now im the bad guy. My husband says im picking on his son because he isnt mine but it isnt that at all, i like the lad but i resent the way he thinks everyone else should keep him. I have no problem with feeding him twice a week when he comes to visit or giving him bits of food to take home but i dont feel we should encourage him to waste his money and then rely on everyone else for the basics that his benefits are meant to pay for. He already gets money and a bag full of food every week from his mum and tobacco from my husband and food from us and this has gone on for over 3 years now. Please give me some advise, am i being harsh on him because hes not mine?
stressed
- 13-Feb-17 @ 7:29 PM
I have a stepson who is 15. His dad and I have been married 2 years. We started out getting along good but that quickly changed. My stepson is so disrespectful to me and his dad. He feels that I'm in the way. He thinks his dad doesn't spend enough time with him and feels I'm the reason. I've always made sure that I'm not in the way of my husband spending time with his children. I encourage my husband to spend one on one time with my stepson. As well as we spend time as a family. My husband has done all he knows to do. My stepson doesn't like the rules in our house and that he is expected to clean up behind himself and help with daily chores.His disrespectful attitude has become unbearable.
Worried
- 28-Jan-17 @ 9:19 PM
tryingmybest - Your Question:
Hi, so I am new to this whole commenting for advice but I am at a complete loss.I know kids can be difficult its part of them growing up along with the mess and dirtiness however this is not my issue. My issue is that I am with my partner of over 4 years and living with him and his 13 year old girl (yes I know what teenagers are like) and 9 year old boy. He has the kids almost half the time and is a great dad this being a very attractive trait, I have no kids but we are wanting to in the future(I am in no rush). The girl is practically impossible and with a nasty bitter biological mother that poisoned her for the first 2 years its now becoming more obvious he should have done something earlier, she is now with someone new thank goodness but despite this shouldnt have put her opinion on her kids as kids do come first and that includes there mental state even if your hurting! I try very hard but not too hard. Im caring and involved but at the same time allow them time alone with there dad its all about balance and Im happy to have me time. its a very laid back schedule with me and the dad and we are happy but with the girl we arent and arent sure what to do? we are already doing the normal suggested tips. she will steal money from my bag she will break my things she will say some nasty things and her overall attitude stinks what can I do? shes having a negative impact on her brother who currently gets on fine with me
---
Our Response:
The fact your partner is in support of you is the main point of importance, as without his support it can become a very difficult situation. The only recourse you have is to keep communicating with your partner to try and mutually discipline and work alongside your stepdaughter. Unfortunately, I can't sprinkle a dose of advisory fairy dust on the problem because it doesn't exist. It really is a matter of trying out different procedures and alternative tactics until you can try and find something that works and this is very much a process of trial and error. However, also understanding the importance of mutual expression and exchange will provide many openings for increased communication, and this method of establishing and accepting situations and solutions is far better than having to persuade someone to change their mind to suit your needs. If you can try to ensure you show respect for another's needs and you will have your own needs met more readily and hopefully communication should occur as a result. A couple of self-help books on the subject may also give your an alternative way of approaching the matter that you may not have attempted before.
BeingAStepParent
- 20-Jan-17 @ 2:11 PM
Hi, so I am new to this whole commenting for advice but I am at a complete loss. I know kids can be difficult its part of them growing up along with the mess and dirtiness however this is not my issue. My issue is that I am with my partner of over 4 years and living with him and his 13 year old girl (yes i know what teenagers are like) and 9 year old boy. He has the kids almost half the time and is a great dad this being a very attractive trait, i have no kids but we are wanting to in the future(I am in no rush). The girl is practically impossible and with a nasty bitter biological mother that poisoned her for the first 2 years its now becoming more obvious he should have done something earlier, she is now with someone new thank goodness but despite this shouldnt have put her opinion on her kids as kids do come first and that includes there mental state even if your hurting! I try very hard but not too hard. Im caring and involved but at the same time allow them time alone with there dad its all about balance and Im happy to have me time. its a very laid back schedule with me and the dad and we are happy but with the girl we arent and arent sure what to do? we are already doing the normal suggested tips. she will steal money from my bag she will break my things she will say some nasty things and her overall attitude stinks what can i do? shes having a negative impact on her brother who currently gets on fine with me
tryingmybest
- 19-Jan-17 @ 9:51 PM
@Lou75 - poor you sounds like a nightmare situation! If you register the dad on the birth certificate then he'll get parental responsibility, if you don't - he wont and you can tell him why. It gives you more control over when you let him see the baby and although he will be able to apply through court for it at least it buys you some time if you think your baby may be in danger. Good luck.
SassyL
- 18-Jan-17 @ 12:45 PM
Just read your post. I was in much the same situation,2 stepchildren and partner living together. Youngest step child (age 7) was absolute nightmare but my biggest problem was my partner couldnt deal with her behaviour so chose to ignore it, he even told me i was imagining it! She would have been very sweet in front of him but the minute he went out the door she was totally disrespectful. She really could have won an oscar! She would cheek me, hit her sister, wouldnt do a thing i asked her and this was on a gud day. On a bad day i would have to deal with her destroying sentimental belongings,stealing,lying,destructing stuff..she even p'd on bathroom floor one day after watching me clean...she would leave objects at the top of stairs when i explained the dangers of doing this! End result! My partner up and moved out because my oldest son gave off about her behaviour and disrespect...im now left 8months pregnant and alone and feeling very bitter that a 7yr old could cause such havoc. The worry i have now is how do i relax when my baby is with dad and his daughter is around..surely given her behaviour i have reason to br concerned for my babys safety...
Lou75
- 17-Jan-17 @ 10:29 PM
Ive been with my boyfriend for almost 4 years now. he has a seven year old child who he fought to get back from the state. this man truly did a 360 in his life so that way his son was out of the system and home with him. the minute we got with each other we moved in together. about 2 months later his son was dropped off and abandoned by someone he considered his mother (she had temporary guardianship of him). I accepted this even though I was a little overwhelmed. things were amazing. we constantly went places and did things as a family. my family took his child in as if he was my own. out of nowhere his child just started acting up. it started with him not being able to get a snack when he wanted. then it turned into a screaming a match with him whenever you said no, give me a minute or just made him wait for absolutely anything. we still took and accepted that all kids get mad when an adult says no. fast forward 3 years later and now his son is HORRIBLE. we knew he was diagnosed with adhd and has been taking meds for this. now hes been diagnosed with ODD. when I tell you this child is a nightmare....I mean it. he screams, talks back, threatens his father, gets kicked out of school almost everyday. his father no longer has a job because of how many time a week he is being called in to pick up his child. he started hitting people at school, students and teachers. he mouths off at everyone...yells, swears, its crazy. he even told his father he was going to kill him. hes destroyed things in the house...hes destroyed his room. it got to the point where I moved out of my own apartment. what hurts me the most is now I have my own kids who aren't even a year old who hardly ever get to see their father because I don't trust his child. I'm scared something is going to happen to them. its gotten so bad that dcf is even involved. the kid truly thinks he does nothing wrong. his father doesn't ever want to argue with him so he lets him have his way but then complains when his child is disrespectful. I just truly cant take it anymore but at the same time I feel bad for dad. I just don't know what to do. I know I have to look out for the interest of my daughters and protect them but all of this just sucks and hurts way too much. I never imagined this would be life.
hackiesack
- 23-Dec-16 @ 8:00 PM
@Seenitall - This is sad :( You are always fighting a losing battle if the very person that should be supporting you, doesn't. Remember though it may also be difficult for your ex too to come to terms with this, as he may have been torn between loyalty to you and loyalty to his sons. It is said that 'blood is thicker than water' - and in this case it has unfortunately been proved true. I hope you manage to recover well from your decision and that life will be a lot easier now you do not have this pressure. You need to be around people you love and who love you back because you as a person deserve it. You have been so stong to make this decision, so all power to you and your future because you shouldn't settle for anything less than being treated with love and respect. KatieB <3
K78
- 15-Dec-16 @ 12:33 PM
My 11 year relationship recently ended after being eroded by the lack of support I had from my partner at the hands of his adult sons (mid to late 30's) who intentionally sabotaged our relationship. Bearing in mind, he left their mother when they were small children, I was not the cause if their split. After 18 months of sporadic spiteful behaviour I realised I had done everything to try and save the situation (even asking the eldest son if we could bury the hatchet, the reply was 'never') but there was no future for us. Inheriting children from previous relationships is never easy, but adult children who know no boundaries are impossible to deal with. I read here that partners who support each other have the best chance of survival...well, absolutely no truer words written. I found myself alone, battling the weight of three men and believe me it is a cold and dark place. Luckily, I am strong enough to carry on and I look forward to being free from that place. I will never accept being bullied and mistreated by anyone, let alone those who are supposed to be family. That is my message. Wishing all of you here good wishes, stay strong!
Seenitall
- 15-Dec-16 @ 10:47 AM
none - Your Question:
Having serious issues with my wife step-children at least one out of the three I'm having an issue the second oldest disrespectful I get disrespect from the wife I don't know what to do anymore.
---
Our Response:
I think in cases such as this you have to ascertain whether moving out of the situation would be better for you than staying in it. We can't advise what you should do, as only you know how much disrespect you can and will sustain. If you are not getting the support of your wife, then this makes dealing with your disrespectful step-children all the more difficult. Sitting down with your wife and communicating properly by telling her the situation is making you deeply unhappy should help bring the conversation out in the open.
BeingAStepParent
- 9-Dec-16 @ 11:47 AM
Having serious issues with my wife step-children at least one out of the three I'm having an issue the second oldest disrespectful I get disrespect from the wife I don't know what to do anymore.
none
- 8-Dec-16 @ 8:56 PM
@Katie @Sheila - I'm just looking at these comments and am wondering whether it is a good idea I move in with my b/f in January. Both of our boys are similar ages (9) and my other boy is older (13) and when we spend time together the boys just argue, there is lots of jealousy, my older boy hates his potential new step-brother and the two boys while they get on sometimes they also fight. It seems it's a nightmare situation waiting to happen and reading your comments I'm not sure now. I don't think I could stand the stress! Amy.
AngelA**
- 8-Dec-16 @ 3:05 PM
@Sheila - I'd move out! It sounds like you don't actually like your husband or his daughter..you might find you are a lot happier away from them living with your own daughter and seeing them when YOU choose...........especially if it is making you depressed.
FlowerPower
- 6-Dec-16 @ 2:16 PM
I am no longer myself.I used to be fun and energetic but can no longer muster to even attempt to be positive.I have been drained of all my good intentions and my want and desire to have a good, happy home life.This particular doormat has been utilized so much that it's about to crumble! I have been with my husband for over three years and the overindulging and coddling he has instilled in his now 11 year-old daughter has basically ruined us and everyone around.He refuses to believe that his little princess is at the center of all the hostility and arguments that go on here at home, at school and at his own mothers house.She is so disrespectful and nasty to me and others that she constantly complains that she has no friends.Well, let me correct that last part, her own father tells her that her friends are users and that's why they don't want to socialize with her.....hmmm, I know better!It's because she is nasty and so full of drama that other girls don't befriend her. He created this little monster and when it rares its ugly head, he blows up at everyone else and then takes her somewhere by themselves almost like he's rewarding the horrible behavior.I have called him out on this a number of times but he refuses to listen to me.She even sets back and watches it all unfold with a smirk on her face!They constantly have private chats in her bedroom whispering or she's just absolutely screaming and whaling.She cries about everything, at the drop of a hat, bored to death is she's not on some type of electronic gadget and will stomp around and gasp loudly to let everyone else know how miserable she is.She doesn't pick up after herself at all!Has to be told and watched to make sure she brushes her teeth, can't brush her own hair and just up until I said something a month ago, couldn't even take a shower by herself.When I ask her to put away her coat on the floor or her backpack I get snotty sarcastic looks and comments."You can't boss me around"" I'll do it later" or she just simply ignores me but will glare directly at me as she passes right by her belongings.I was having a discussion with my 18 year-old daughter about her homework for senior year one day and his daughter walked right up to me and slapped me HARD across the face, then continued in my shock and amazement, to lean forward with her hands on her hips and a smirk on her cocky face and asked me "did that hurt?".How do you deal with that?!!Of course I told her father about it but he says she did it in playing LOL.My own daughter was shocked and couldn't believe it.She will walk through the house with muddy shoes on and I will mention two to three times to stop and remove them, while she just stares at me and continues with her blatant dis-respectfulness.She's even pulling the junk at school now and the students and teachers don't want her there so they call and have him pick her up.I have to tip toe around my own house.She
Sheila
- 2-Dec-16 @ 4:55 PM
My 5year old step daughter to be bullies my 5 year old daughter. My partner seems blind to this. The step daughter even blames my 13 year old son for things she does. Her mother constantly causes trouble and tells her daughter to say hurtful things to her father and myself. (She calls her dad a dick head cos mummy says it's ok) I'm at my wits end and I really don't know what to do. Feel like throwing it all in and moving out ??
Katie
- 2-Dec-16 @ 12:25 PM
@K - I agree with you. They are all adults and can get on with their own lives. Between me and my hubby we have five kids (grown up) and eight grandchildren, all, all of them ever want is money. You'd think they would have grown up by now but the stuff we have to deal with on a day-to-day basis drives us mad. We escape to Corfu to get away from it all and leave them all behind to get on with it together. We've had our fill and 30 years of this inter-family bickering. Take heed J, unless you have a perfect family, sorry it doesn't get much better. You just have to ignore it and carry on. Angie.
AngieO
- 14-Nov-16 @ 2:52 PM
@J reading your comment is like reading my life. My husband is 34 years older than me (I'm 28 now) and we've been married 5 years in March. We have a loving and strong marriage however he has a step son, a biological daughter and 2 grandchildren which are causing problems. He raised his grandson from birth with his first wife (passed away 12 years ago) and he still lives with us now (he's 22). My husbands step son is in his 40's and stopped talking to us when he found out we where getting married. His daughter is in her 30's and refuses to work and lives off benefits etc and expected me to pay for her when I married her father. Hubby stopped talking to her nearly two years ago due to how disrespectful she was being to both of us. Now my stepson/grandson is refusing to talk to either of us because we would like to sell the house and move to a bigger home 30 miles away. I understand he's upset even though we told him over a year ago the house will be going up for sale this year but it's really upsetting his father who has bent over backwards to give him everything especially after his mum died. He's stayed away from home for 4 days now only returning to get things when we are out or asleep. He's also ignoring texts etc. I've never had experience with step children before either and I'm at a loss as my husband and I want to start a family of our own and was hoping his son would be apart of it but he's being just as disrespectful as the other two. It's quite stressful and upsetting. I haven't slept properly for over a year due to back problems and have had even less then last few days. It's a very stressful situation but even though it's upsetting we've come to the conclusion that they're all adults and have their lives to lead it's time we enjoy ours and do what we want. It's a shame but it's realistic.
@J - this must be quite hard for you, given that you're pretty similar in age to your step-daughters. But it must be quite hard for your step-daughters too if they have seen someone new coming in who is a lot younger than their dad and is trying to play mum. You might be able to deal with it better if you open up to them as friends rather than step-daughters -but it's still a difficult dynamic. The most you can do is to be open and honest with them and tell them you want to make a go of the relationship with them, if they still don't respect you after that, you might have to agree that you will never really get on. In some families - step relationships just don't work. Give it a year and then give it up. Trish.
TDB76*
- 2-Nov-16 @ 3:04 PM
I met my spouse about a year and a half ago. Everything was amazing when we started dating, the engagement, the wedding. However, I have two step children (20, 22) that I am having a hard time with. They were abused by their step mother when they were 6 years old and they have multiple issues (depression, bi-polar disorder, anxiety-to name a few) and I'm having a lot of trouble finding a place in their lives. The youngest daughter has started a lot of drama involving family members and previous stepmoms. She's made up lies about me, fabricated complete stories involving me, and caused so much drama-even to people I've never met. The oldest daughter and I had the worst start, (she heard a lot of lies from the youngest), and I've tried forming a healthy solid relationship with her. I've just had no luck forming a consistent, healthy relationship. Their family is very distant from each other and they rarely talk however when it comes to their dad and I, they have a fixation on what we are doing, where we are going, and they claim to 'want the best' I'm completely at a loss for what to do. Maybe I'm trying to voice my feelings in what seems like a safe place where other step parents are heard and understood. I'm 28 years old and my spouse in 47 years old, our age difference has started so many rumors about me which is very disrespectful especially since I have never loved anyone like I love him. I've had a very hard time finding my place within this family. My spouse wants to stop speaking with the girls but I can't help but want a family that is whole. Has anyone had any experience in coping with this dynamic? Or any experience trying to cope with cutting out the drama and ignoring step children? I've never had any experience with step children so any help would be greatly appreciated.
I have two kids - 21 and 20 - and two step children - twin girls at 16. They have grown up together and have been brought up together since the youngest were 3 years old. They get along most of the time but over the last few years the twins have become lying, thieving, manipulative brats. They steal from the elder two, lie about it and get away with it. If I say anything to my husband, then my kids have done something else equally wrong or have just 'lost' the items which have gone missing. They are far from perfect and messy but they do not lie or thieve. I am absolutely sick of having to replace clothes that the twins have stolen from my kids. Their dad has confronted them but they are so good at lying that he believes them - despite photos of them turning up on social media of them wearing the said stolen items! Now they have moved in permanently. They snoop in my bedroom and steal money - though I haven't caught them red handed. They are disrespectful of my propertyand get away with that also. They are around all the time and I hate them. They are driving my own two kids away. They will move out soon enough and the twins are ruining any time that I have left with them living at home. I blame their dad for their behavior as he used to say that he felt he was always having a go at them and that they wouldn't want to see him if he kept chastising their behavior. The result is two kids who are disrespectful, and get away with everything. I feel I am going to be stuck with these two little brats who will eventually force my own children out of the house and I fear that once that has happened and I am stuck with just them there they will drive me out also.
Annie
- 25-Oct-16 @ 4:39 PM
I met my now husband in high school.... We were very close and dated on and off and when he moved out of state and then joined the military we lost touch.... Long story short he moved back with a one year old daughter. We met up and everything just fell into place. I've been raising his daughter as my own and she made the choice in her own after a few years to call me mom. She knows she has another mother....but they never bonded because she left Brian and her when she was an infant.... So she doesn't even know her and might call to talk to her maybe once a year, maybe. In 2013 we had a son and I felt so complete having my daughter and son.... Things were great! Fast forward to begining to kindergarten and she started getting in trouble here and there on the bus mostly and we would deal with it, nothing major. Now first grade has started and she has a horrible attitude!She always seems so angry and negative. When I try and be nice and understanding she turns into a lippy snotty brat.... When im stern, after Ive been told no several times, she just cried and throws a ridiculous fit.... I don't know what to do! Also, I was just informed that she has become a bully on the bus and is in danger of being written up/kicked off... She suddenly won't open up to me or talk to me about anything.... I feel like she doesn't even like me anymore or have any respect for me.... I'm at such a loss....
stevizilla
- 5-Oct-16 @ 4:53 PM
I have been married to myhusband only a year and 3 months, and his daughter's age 17 and 19 seem to have a problem with me they are very disrespectful they will come into our home and not speak one stays in the house and walks around with a attitude all the time, we have 2 five year old and a 13 year old in the house and they are watching everything they are doing, 2 of the children are biologically mine and 2 are his my son is starting to pick up lots of bad habits from his 17 year old, I told my son he will not disrespect me or anyone else my daughter tells my mother she don't want to sleep in her room because there is a ghost in her room I don't know what to do anymore I have prayed talked with my pastor Now I am to the point where I am ready to give up because my husband seems to not be talking to his girls becausethey are still coming in our home being disrespectful,he don't talk to me about us coming together to resolve this issues that we are having, and I am trying to hold on by faith and now I have gotten to the point if my kids tell me mom I want to leave I think I just may do it.
Tweety bird
- 3-Oct-16 @ 1:26 AM
where do i start. i met my husband in 2010. he then had his eldestdaughter living with him. he had been divorced before.the first time i met his mum, his daughter turned up with her mother, who his mom had not seen since they split years before. i found this a little strange and my husband to be was shocked and upset because he couldnt understand why she was there. i married my husband in 2011. the next montha baliff turned up at our home because his daughter had not paid the council tax when he left her in the flat, we had to pay this money out of money received when we got married.i said we should both talk to her and he went ahead and spoke to her by himself.i said this was wrong as it was both our money. he couldnt see anything wrong with that. the next incident was she split with her boyfriend and told us that he cheated on her.it turns out she had cheated on him, and we only found out because the guy she cheated with told one of my family members.to cover herself she began to tell lies and threw us under the bus. She lied and said her dad and i didnt speak to her at her nans, one christmas when her dad saw her boyfriend, and said he wanted a word with him.She made excuses and left.after this happened , she walked past me and my daughter when she was at her sisters house, and nothing was said about it.she and her boyfriend posted a picture on facebook sticking up thier middle finger after i had wished them happy new year, again nothing was done.there was a outing for our grandson's 4th birthday and we were left out because she was going with her boyfriend.This upset me greatly as well as my husband and again nothing was said or done. When my husband tried to contact her she ignored him and when i contacted her to say this needed to be sorted out she came with her boyfriend to our house.when her boyfriend asked my husband what she had told him when they split, my husband said well thats for you and her to sort out.i felt as if he didnt defend or clear our name and he covered for his daughter. this has put alot of strain on our marriage amongst other things and the funny thing is there are two other step daughters who there is more of less no problems with. am i too sensitive? i aslo have borderline personality disorder
where do i start. i met my husband in 2010. he then had his eldestdaughter living with him. he had been divorced before.the first time i met his mum, his daughter turned up with her mother, who his mom had not seen since they split years before. i found this a little strange and my husband to be was shocked and upset because he couldnt understand why she was there. i married my husband in 2011. the next montha baliff turned up at our home because his daughter had not paid the council tax when he left her in the flat, we had to pay this money out of money received when we got married.i said we should both talk to her and he went ahead and spoke to her by himself.i said this was wrong as it was both our money. he couldnt see anything wrong with that. the next incident was she split with her boyfriend and told us that he cheated on her.it turns out she had cheated on him, and we only found out because the guy she cheated with told one of my family members.to cover herself she began to tell lies and threw us under the bus. She lied and said her dad and i didnt speak to her at her nans, one christmas when her dad saw her boyfriend, and said he wanted a word with him.She made excuses and left.after this happened , she walked past me and my daughter when she was at her sisters house, and nothing was said about it.she and her boyfriend posted a picture on facebook sticking up thier middle finger after i had wished them happy new year, again nothing was done.there was a outing for our grandson's 4th birthday and we were left out because she was going with her boyfriend.This upset me greatly as well as my husband and again nothing was said or done. When my husband tried to contact her she ignored him and when i contacted her to say this needed to be sorted out she came with her boyfriend to our house.when her boyfriend asked my husband what she had told him when they split, my husband said well thats for you and her to sort out.i felt as if he didnt defend or clear our name and he covered for his daughter. this has put alot of strain on our marriage amongst other things and the funny thing is there are two other step daughters who there is more of less no problems with. am i too sensitive? i aslo have borderline personality disorder