Budgeting for a Bigger Family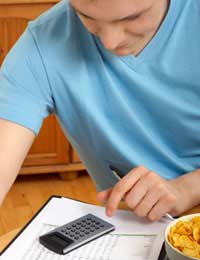 As all parents know, sticking to a budget isn't always easy. Money never seems to stretch quite far enough when you are shopping for a family, and when the family expands with the addition of stepchildren, finances can become even trickier. With a little forethought and careful planning, though, most parents find a way to budget their money in order to meet the demands of their growing families.
Crunching the Numbers
The first place to start in managing family finances is to get an accurate picture of the current situation. Tallying income (from all sources) and expenditures, both fixed and flexible, can be an eye opening experience since most people find that their financial situation looks better on paper than it feels in the workings of everyday life. Often, this difference is due to one sad fact; most of us spend at least some of our money mindlessly and then wonder why we always seem to be short on funds.
To get a brutally honest look at exactly where their money goes, people may want to jot down every single thing they buy for a full month or two. Many people are surprised to discover just how much all of those fast food lunches and fancy, flavoured lattes add up to over time.
Balancing a Family Budget
Once the numbers are in place, the real work of balancing a family budget can begin. Money is certainly not the most important thing in life, but when it's in short supply, it can feel as though it is. The key to making budgeting as painless as possible is to first list the bills that are vital and constant, such as mortgages, car payments, and the like. Next comes necessities that vary a bit, such as utility bills. Since these figures aren't exactly the same from month to month, it's best to take an average over the past year and use that. Finally, the rest. All of the expenditures that we need to account for, but that we can control to some degree, such as groceries, clothing, and entertainment. When comparing the two columns, income and expenditures, we can start to decide where we need to make changes, especially important as a family grows, as is the case when stepchildren are added to the household. Sometimes, everything can balance by a simple tightening of the belt, but occasionally, a growing family requires more than just what budget cuts can do and in these cases, some tough decisions may have to be made.
Learning to Live on Less Money
If after looking over the tally sheet, the monthly expenditures exceed the anticipated income, there are basically two choices. Increasing income is the obvious favourite, but that is not always immediately possible. Most people are forced to go with the second option, which is to live on less money.
Some families require big adjustments in their finances in order to live within their means, so giving up a newer car in favour of an older model that can be paid for outright rather than financed may be an option, or for those whose work is nearby, walking or biking might be necessary. Mobile phones, cable television, and outings to movies are certainly enjoyable, but none are necessities. Each family's situation will vary from the next, but in most cases, there are things that might be necessary to give up, at least temporarily, in order to make ends meet.
Cutting back (or cutting out) unnecessary spending is usually a bit painful at first, but once new habits are in place, it becomes much easier. Carrying a travel mug with coffee that was brewed at home, packing lunches, reading the news online rather than buying the daily newspaper, and shopping the sales for food and clothing can all make a big difference over time. Learning to live within a budget is an important skill and in the long run, it teaches children not only to be responsible with their money, but to appreciate the things that they have.
Fairness in Family Finances
Children have a keen eye for fairness and they will immediately point out any inequities, whether real or imagined, so parents and stepparents need to make every effort to budget as equally as possible for each of the kids in the family. Obviously, each child is bound to have slightly different needs, depending on their ages, but overall, fairness should be kept in the forefront when making spending decisions. For instance, there is nothing wrong with passing clothing down from one child to the next (in fact, it is a great money saver!), but every now and then, younger kids should be allowed to choose a brand new item when the family shops for new clothes. By trying to accommodate each child's needs, parents and stepparents can live within a budget without having a grouchy group of kids at home.
You might also like...