Being a Step Grandparent: A Case Study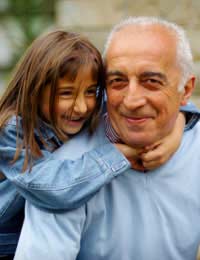 Having a step family affects more than just the immediate family and the role of grandparents, especially, can be changed with the arrival of step children. We catch up with one step grandparent and find out what it's really like being a step grandparent.
Jeanne, initially a grandparent to two grandkids, suddenly found herself a grandparent to five, after her son remarried. "I was really pleased that my son had another chance of happiness, after his first marriage sadly failed. I loved being a grandparent to the two little ones, but suddenly having three more did take a bit of adjusting," she admits.
It was strange at first and I think they were a bit wary of me for a while, as they obviously had their own grandparents already and were used to how they behaved with them.
Getting to Know My Step Grandchildren
One of the biggest issues Jeanne says she found was not having previously known the children as they were growing up. "There was quite a lot of missed time to have to catch up on, but it's not that easy when they were sometimes reluctant to talk openly about everything."
"Building up trust with my new step grandchildren has taken time, but it was something I believed was vitally important," she says. "Over the last three years, I've done my best to get to know all of them in their own way and include them as equals in my life. I live quite nearby, so am able to see them all frequently."
"That includes treating them in the same way for their birthdays or when we go on days out, as well as ensuring that I try and see and do things with each of them when I can. Of course, it doesn't always work out flawlessly, as some of them are busy with their own activities and school work, so I do tend to see more of the younger kids than the older ones."
Integrating Grandchildren and Step Grandchildren
As important as it was to get to know her new step grandchildren, Jeanne is keen to emphasise that she also tried to build on the existing relationship she had with her two grandchildren, so they didn't feel left out in the process.
"I didn't want my two existing grandchildren to feel left out, ignored or overlooked by the new additions to the family. Obviously I'd never do that, but children don't always know that. I had a chat to them both, on several occasions, to let them know that they were special to me and always would be. But also that the new step-kids needed a grandparent too and I wanted to play a part in their lives, just as a I did in my two grandchildren's lives. Although they were both young, I think they understood and they seem to have taken to their new relatives pretty well."
Establishing Family Traditions
"I think family traditions are important, so I try and carry on some we've always had and have created new ones in recent years. It's great for bringing everyone together, if only for a few hours, and it's something to involve all the grandkids in and help mark special events in the year. I hope it's something they'll come to remember when they grow up and, hopefully pass on to future generations. "
You might also like...