We Both Have Jobs and Manage Our Family: A Case Study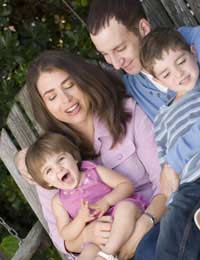 It is a fact that in these times of credit crunch and recession we have no choice but to work, and in many families both parents work and manage the house and the children as well.
Family Demands
It can be quite a daunting prospect to both work full time and cope with the demands of a family, and this is particularly the case if you have recently become a step parent and 'taken on' some extra parental responsibilities.
Planning and Organisation
The key to a successful family life is communication and organisation. Prioritising and delegating are also crucial to a stress free and harmonious week and with a bit of planning and thinking ahead this can all be achieved quite easily.
Blended Families
Rebecca and James both work full time, and last year decided to move in to a new house as a newly blended family. Rebecca has two girls from a previous relationship, and James has a son. They had been dating for about two years when they took the plunge to become one big family, but the financial pressures of a large mortgage and three children to feed and clothe, meant that both Rebecca and James knew they would both have to continue to work full time.
Plan of Attack!
Rebecca said: "We both love our jobs, but suddenly becoming a bigger family AND working was quite daunting! Also, with a bigger house to clean and keep tidy we soon realised that what we needed was a proper plan of attack to make sure that everything got done and we never forgot things like packed lunches or PE kits for the kids for school."
Rebecca and James's children are all quite young and still at primary school so the couple knew that they couldn't expect too much of them in terms of helping with chores. James said: "We managed our expectations and knew that some days would be chaotic and busy and others would be less so...how wrong we were! EVERY day is chaotic and busy and we now have a big family planner in the hall that we write everything on so that we know exactly what is happening and when."
Working DayJames works full time from 8 until 6 every day while Rebecca's hours are usually 9 until 4. This has meant that the couple have had to organise childcare for after school for about an hour.
Rebecca added: "The children understand that we all have to work as part of a team and they don't mind at all. They do little jobs like put their laundry in the basket and make sure they have the things they need for school and we do the rest. We have a rule that we don't work at the weekends at all, and on Fridays we both try to finish work earlier so that we can take the kids out for a pizza or go bowling."
James added: "It has been quite hard and stressful at times, but we talk about everything and the children are our top priority. We both have to work and sometimes I wish we didn't but lots of parents are in the same position and you just have to make the best of it."
You might also like...