The Importance of Spending Time with your Step Child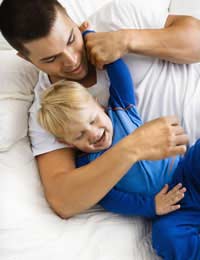 When they choose to marry, most parents hope that their children will grow to love and accept their spouse as a member of the family. Stepchildren may not immediately offer warm welcomes to their parent's new spouse, but with a bit of time and effort, most stepparents are able to win the hearts of their spouse's children.
Togetherness Builds Bonds
In time, strangers can become the best of friends and new family members can be dear to the heart, but in order for this transformation to take place, the people involved must be given the chance to get to know one another. Ideally, stepparents have been allowed and encouraged to build bonds with their partner's children before talks of a wedding were in the works, but even if the parent chooses to wait until they were engaged to actively coordinate meetings between their fiancé and the children, loving and lasting connections can still be begun.
Understanding Stepchildren as Individuals
Children, like adults, are unique individuals, each with their own talents and preferences. In order for stepparents to really get to know each of their spouse's children, they must spend some time with them, observing their personalities and temperaments, and learning about their likes and dislikes.
It's best if stepparents are able to schedule a bit of time with each child, allowing them to talk and participate in activities that appeal to the youngster so that the child is comfortable and having fun. Happy kids are the most welcoming, so it's worth the effort for stepparents to carve out blocks of time that are dedicated solely to one stepchild at a time.
People often misunderstand what it means to spend quality time with children. Kids don't have to be treated to fancy excursions or extravagant shopping sprees, although they are sure to enjoy such indulgences. The times that matter most are those that encourage genuine interaction between stepparents and stepchildren, talking, laughing, and getting to know one another.
Including Extended Family
There's an old saying about marriage – that when you marry someone, you marry their whole family. While it is obviously not essential that stepchildren develop attachments to their stepparent's family members, it does have its benefits. Children in families need to feel included and accepted, so it can be awkward for them if their stepparent, who they are likely to become quite attached to, doesn't invite them to be a part of their circle of loved ones.
Creating a Loving Household
There is a big difference between caring about one's stepchildren simply because they are stepchildren and caring for them based on shared experiences, common views, and genuine connections. The first is acceptable, but the second has the ability to transform and enrich life, something that most people seek. Smart stepparents dedicate their family time to creating an environment where each member feels appreciated for who they are, a far superior alternative to one where members experience no particular drama, but no real depth of emotion, either.
Being part of a loving family helps kids to gain confidence, allowing them to test their wings with the knowledge that if they struggle, they have a caring group of people ready to offer support. These types of connections don't happen automatically just because the children's parent finds a new spouse. Loving bonds that endure the difficulties of real life require time and togetherness.
You might also like...
Continued from first post: She has told me in both of the two brief phone calls we've had over the years, that parenting will be impossible for me, as I have no natural instinct, having not carried a child myself. I can tell when things have been said to my step-son about me, too. He'll leave our home happy on the Wednesday morning & by the next Monday when we collect him from school he's detached from me, testing of me; my authority & place in his life undermined. At the highest point of my relationship with my step-son, he made me a Mother's Day card, just as he makes his step-dad a Father's Day card, but I never received it as he was made to tear it up. He was desperately sorry when his mum was angry & tearful with him after finding the card he'd made me in his school bag, & withdrew from me as a result. This was in 2016 & I have struggled to find a balance to my relationship with him ever since. It feels like closeness with me gets him into trouble with his mum & leaves him vulnerable to criticism of me which in turn makes him so confused, & it also opens me up to heartache. Couple that with him going through a very 8 year old phase of assertiveness & quite selfish behaviour, and I really don't know what to do! Please help!
BonBon
- 7-Apr-17 @ 5:02 PM
I have been a step-parent for over 3 years now, and it seems to be getting harder. My husband and his ex broke up (my husband's decision) when my step-child was a baby. The ex went on to marry shortly afterwards and have 2 other children. I met my husband when my step-son was 5 & a half. The ex has never shown an interest in getting to know me, refusing to even look at me when I first met her (this continues to this day!) which I've always struggled to understand given her son is in my care every week. She views her son's time in our house as time to spend with his dad - something she just about tolerates as a necessity. Despite her child being with us a third of the week, she does not want him to view us as his second family. As far as she's concerned, he has a family - her family - and so time with his dad should be doing special things, nothing mundane, and if her son is ever bored he should be back home with her family. This makes time with my step-son at our house unnatural, and tense, as he's been made aware of his mum's views and, especially now, tries to play them to his advantage. It has occurred to me so often that we could make like really easy for ourselves & just be the fun house - sugar, & computer games, & limited boundaries. But that would be ruinous for my step-son! Instead, we try & lay down fair rules without the benefit of any insight into the rules of his main home where he spends most of his time, & in the face of a refusal to accept that we're an important family unit for him. Though we accept we're not his main home - he spends most of his time at his mum's - we still want him to feel at home when he's with us. He can't feel like a guest for a chunk of every single week, so I don't know what his mum expects for him when he's at ours. I had hoped that in time we'd have a relationship of civility with his mum - possibly even warmth - & even hoped that one day we'd buy joint birthday presents & things like that, which would mean the world to him, but we still have yet to get to the stage where I receive a 'hello' on the doorstep. I find it strange that this is a child I have responsibility for, that I'm woken up by, cook for, wash for, care for, drive around, make plans for, and yet I've never been invited into the home he spends most of his time in, & I'm not accepted as an important figure in his life. There's no discussion about how he's getting on in each house, or the common rules between the two homes so that we can all display a united front (this feels particularly necessary as my step-son gets older, more assertive, & more prone to manipulate the two house set-up). I feel we would all benefit from this so much, but to embark on any discussion is viewed as criticism. What she does in her house is right, and we're left to make educated guesses as to what we should do, all under pretty extreme scrutiny from her, & relatively constant criticism. She has told me in both of the two brief phone calls
BonBon
- 7-Apr-17 @ 5:00 PM