Encourage your Step Child's Relationship with their Mother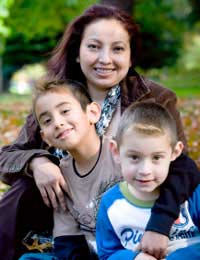 Often, one of the roughest parts about being a stepmother is dealing with an awkward or unfriendly relationship with the children's natural mother. Nonetheless, stepmums need to respect that their stepchildren love their mum and should not be put in the middle of adult squabbles, so every effort must be made for the two women to get along. Stepmothers who actively encourage the children to have loving relationships with their natural mother and make the effort to speak well of her are giving the children the gift of a happy and harmonious family.
Providing Kids with Assurances
Kids in stepfamilies may feel torn between their loyalties to their natural parents and the affection that they feel for their stepparents. Sometimes, these feelings are unconsciously encouraged by the adults themselves, who may appear hurt when they hear the children speaking warmly about their other parent or a stepparent.
Children should be allowed to express their emotions openly and the important adults in their lives need to assure them that they approve of and support the kids' desire to maintain loving relationships with both of their parents. Parents and stepparents are very influential in the lives of children, so it is vital that they give the kids messages that promote healthy attitudes.
Speaking Positively about the Children's Mother
It is not uncommon for the adults in stepfamilies to have mixed feelings about one another – they may even harbour considerable resentments toward each other due to past or ongoing disputes. Yet, no matter how a stepmother feels about her stepchildren's natural mother, she needs to refrain from speaking ill of her in front of her children.
Stepparents, especially those who live in the home where the children spend the majority of their time, have an enormous impact on the children's lives and attitudes, and because they have such influence, they also have a great responsibility. It would be cruel to discourage children from maintaining loving bonds to their mums, unless the mothers' presence puts the children in harm's way.
Reaching Out
Today's families are often blends of "yours, mine, and ours," so stepfamilies are no longer oddities. Kids who are part of stepfamilies often develop close bonds with not only their stepparents, but with stepsiblings and members of their stepparent's extended families, as well. Holidays and other special occasions often pose scheduling challenges for stepfamilies because the children are usually treasured guests at all gatherings and people express disappointment when they are unable to see them, yet it is often difficult or impossible to accept every invitation.
Stepmothers can help to ease the difficulties of party planning by welcoming their stepchildren's mother (along with her partner and family) to share in joint celebrations, allowing the children to spend the time with all of those that they hold most dear. Because of the children, parents and stepparents will always remain bonded to some degree, so if they can work out ways to accept one another and welcome each other into their lives, it can make life easier for all involved.
Protecting Children from Unfit Parents
Sadly, not all mothers are cut out for the job and some have proven themselves to be a danger to the children. Neglectful, violent, or recklessly irresponsible mothers must be kept from their children, no matter how painful the separation may be for the kids.
When a mother is unfit to be around her children, it can cause a great deal of emotional distress for the kids, especially when they are old enough to miss her yet too young to understand why they can't be with her. In cases such as these, it falls to the children's father and stepmother to explain, as gently as they can, why the situation exists. Care must be taken, of course, to dole out information that is age appropriate and not overly graphic, but it must be truthful.
Kids need and deserve the love of their parents, but first and foremost, they must be kept safe.
You might also like...