What It's Like to Be a Step Dad: Case Study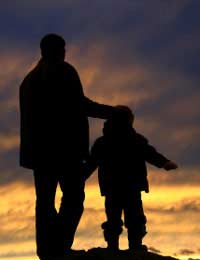 Becoming a step parent is a major life change. Even if you have children of your own and you are used to having children around, moving in with your new partner and their children can be a very daunting prospect.
Getting to Know You
Dean was 40 when he met Joanna, and after 18 months of dating and getting to know each other's children quite well, they decided to take the big step of moving in together.
Children
Dean said: "When Joanna and I met the children were relatively young and around the same ages so we thought everything would be quite straightforward. My son James was 11 and Jo's kids were eight and ten. We were both divorced and had been single for a couple of years when we met."
Slowly Does It
Dean and Joanna took things slowly at first and waited six months before they introduced each other to their children. A few weeks after that they introduced their children to each other.
Previous Relationships
Dean added: "We waited a while because we wanted to make sure that we were really together as a couple before we rushed in to anything. We have both been badly hurt by previous partners and didn't want our children to be negatively affected by our new relationship.
Keep it Simple
"We started off by meeting with our children away from our homes. So one weekend we go for a pizza and the next to the cinema or for a walk with the dogs in the park. We kept it simple and thought that this would be the best way to prepare the kids for the fact that we wanted to live together.
Out of the Mouths of Babes!
"We were both worried about how the kids would react and respond to our decision to move in together and live in one house, all of us as one family but in fact they mentioned it first in the end! They had already had a chat about it and decided it was a good idea!"
"However, although initially they were all excited, we did experience problems when we all moved in together and I did find it hard to adjust to being a step Dad. You never really know someone until you live with them, and the children were quite hard work at times."
Different Rules
"All parents have different ideas for how they would like to raise their children and just because you love someone and want to be with them, doesn't always mean you agree with everything they say and do. Jo and I did clash over a few things and I know that her kids have said things like 'he's not my Dad and I'll do what I like,' but this is quite normal and to be expected.
"It's been a big learning curve becoming a step Dad but we are all starting to settle in to our new family life and it's getting easier. The children know that I will never replace their real Dad and they see him regularly and actually have a better relationship with him now that their Mum is happier and more settled. My own son is fine, he still sees his Mum and we all get on OK. There were a few bumpy rides along the way but I think the key to being a good step Dad is to expect that really and try and prepare yourself for it as much as you can."
Communicate
"Keep talking-to your children, your step children and your partner. If everyone knows how you feel about things it's much easier for them to understand. It can work out and you can be one happy family-albeit a blended one!"
You might also like...