Building a Happy Stepfamily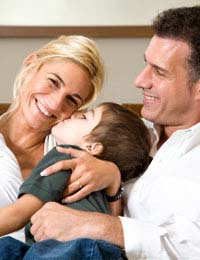 Happy families come in all sorts of varieties, from traditional Mum, Dad, and children to any number of other combinations. With the increase in the divorce rate over the past decades, stepfamilies have become quite commonplace, accounting for an impressive percentage of all families, so today's kids are often comfortable splitting their time between the homes of each of their parents.
Encouraging Close Family Bonds
Building family bonds takes time and dedication, but most seasoned stepparents will attest to the value of making time for family members to get to know one another and find what things they may have in common. Scheduling fun family outings and gatherings can help the kids and adults to see one another in a positive light.
In addition to organising group activities, parents and stepparents can promote step-sibling bonding by enrolling them in lessons together to encourage the development of common interests. Parents, too, can benefit from sharing activities with each of their children and stepchildren one at a time. As time goes on, family members will grow to appreciate the gifts of other members and will look to them for companionship as they engage in the activities that have drawn them together.
Supporting Children's Emotional Needs
Families often operate as a support system for members, a place where each person knows that they have others to turn to when they are in need of help. Children who grow up in homes with caring parents who make themselves available to listen and offer guidance find that as they grow, they are confident to try new things because they know that even when they fail, they have a group of caring people who will offer comfort and encouragement.
Prioritising Family Time
Most families are quite busy these days; between work, school, lessons, and social commitments, it is not uncommon for families to be at a loss to secure some time that is just for them. Despite the difficulties of carving out special family time, it is a valuable goal and should be a priority for all parents and stepparents. Limiting the children to enrolling in only one or two extracurricular activities at a time can help to avoid over-scheduling, and the adults in the house can make a point to leave work behind once they've gotten home, freeing them up to focus on their families.
Welcoming Extended Family
When couples separate, most lose touch with their ex's family members. Because of this, the children in stepfamilies often have limited access to members of their extended families, seeing them only while they are in the care of the parent who maintains contact with those particular members. Kids may miss spending time with some of their favourite family members if they are only allowed to see them on a limited basis, so parents and stepparents may want to open their homes to members of their children's extended families, allowing the kids to have greater access to all of the people who care for them.
With the cooperation and approval of both of the children's natural parents, children can enjoy maintaining bonds with the members of both sides of their families, as well as forming new connections to the members of their stepparent's extended family. When the adults in children's lives are welcoming to the notion that their kids can benefit from being part of a large and caring group, they can set aside their own insecurities and allow their children to invite all of their family members to be a part of their everyday lives and important events without fear of hurt feelings or an inappropriate outburst.
You might also like...