Going on Holiday as a Step Family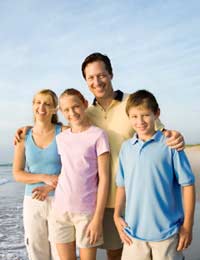 Once you have got to know each other, and possibly before you all move in together and become an official step family, you may well decide to book a group family holiday. This is a great way to get to know each other better, and also a very good way of gaining a small insight into what life might be like as a blended family.However, before you even pick up a brochure or start browsing the Internet for ideas for your perfect getaway, carefully consider all the needs of every member of your new family.
Plan Ahead
If your children are all very young and roughly the same age then chances are that they will all be very happy if you organise a simple holiday involving building sandcastles, eating ice cream and paddling in the sea or a swimming pool every day, older children and teenagers however might have slightly more ambitious ideas about how they would like to spend their holidays!
Stick to a Budget
This is really important, so make sure that you are your partner sit down and discuss exactly how much money you have to spend on the holiday, and how much you have to spend when you get there. Young children are not as affected by this as older ones, and if you have teenagers it is a good idea to explain to them what the situation is and perhaps give them (or encourage them to earn!) their own spending money. This way they can be responsible for their own holiday money on the basis that when it's gone...it's gone!
Different Needs
All children are different, and just because you and your new partner get on really well, it doesn't necessarily mean that all your children will instantly bond so try to manage your expectations as far as possible to avoid disappointment and conflict with other members of the family.
Make Time
Holidays are supposed to be for relaxing and being together, and although with an extended family you will possibly need more structure and routine than previously, you should still ensure you all spend time just chilling out and getting to know each other better. Play games together, go for walks and prepare and cook the evening meal as a family.
There May be Trouble Ahead...!
Undoubtedly, your first step family holiday will not be all plain sailing and there are bound to be times when you start to wonder if it really was such a good idea after all. However, in ALL families of every size there are issues and problems that crop up and have to be resolved, and there is no reason why yours should be any different.
The key is to keep all lines of communication open and don't expect miracles because it takes time for people to get to know each other and get used to their individual way of handling things. It is important that you all get on well, but it won't always happen overnight. Give yourselves plenty of time and space to settle in to your new life and make sure that everyone is treated as an individual. All your children will need time with both of you so although you may feel like you are being split into several little pieces most of the time-it will be worth it in the end!
You might also like...
I became a custodial step-mum 6 years ago - my stepson is now 14 and lives with us full-time except for 4-6 weeks holiday each year visiting his mum/half-sister/half-brother. His mum speaks to him twice a week but other than that doesn't play a parenting role or contribute financially. My stepson is a really nice, kind and intelligent kid and we generally get on well with all the usual stuff of family life - homework/chores/values/friends etc. His dad and I discuss everything regarding his son/my stepson and I am involved in all the decisions - we both go to parents' evenings, we both watch him play rugby every week, choose his presents, help him with homework, discuss difficult issues etc so essentially a strong unit bringing him up together, but obviously with different relationships with him as you would expect with a bio dad and a step-mum.BUT when we go on holiday it all seems to fall apart. My stepson suddenly becomes very threatened by my presence and becomes exceptionally needy and clingy of his dad - it's as though he has regressed by about 5 years. He addresses all his conversation to his dad, does anything he can think of to get his attention, starts to pick on/criticise every single thing I do or say and constantly reminisces about stuff they did/things they had before we met. He gets suspicious that we are trying to do things without him - even if it's going to the cash-point for 5 mins while he is playing table tennis with a friend he's made on holiday. It's like having a completely different child. I do my best to ignore his behaviour and not react, but it's hard to enjoy a holiday when you feel ignored, criticised and under the microscope the whole time. We got back from holiday yesterday and my husband acknowledges his son's change in behaviour but he says he doesn't want to go on holiday again/spend the money on a foreign holiday if it's going to be like this. This time has definitely been the worst - is this because he is going through puberty? I don't have bio kids of my own and sometimes find it hard to know what is typical of any family anyway and what is different because we're a "blended family".
wanttosucceed
- 20-Aug-12 @ 11:39 AM