Being an Organised Step Family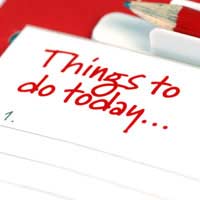 It sounds so easy doesn't it? Organise a family chore rota and get everyone involved in helping with all the little jobs that need to be done around the house every week. Well, any parent will tell you that the theory is brilliant but the reality is quite different!
A Time of Change
It's possible that you and your partner have been in a relationship for a while and all your children have had a chance to get to know each other and spend time together. Once you have made the big decision to move in with one another that's when the fun (and hard work!) really begins!
Go Easy in the Early Days
Although it will be a lot of fun when you all become one big blended family, it will also be a lot more work-particularly for the parents! Therefore you will need a system to make sure you are all organised and nothing (and nobody!) gets forgotten. Trying to instil the theory of children taking on new chores and jobs in the early days is probably a bit ambitious. In the first few weeks you will all need time to settle in to your new situation and get used to your new life as a blended family without too much extra pressure. However, you will find that life is less stressful and easier to manage if you do have a system in place.
Working as a Team
If your children have previously taken responsibility for tidying their rooms, feeding the cat and cleaning the car out once a month then there is very little reason for this to stop. Conflicts may arise if your partner's children have never been expected to do very much at all and rebel against the idea of being part of the household chore team!
Incentives Work!
Incentives, bribes, rewards...call them what you will but they all add up to the same thing if you are a child and that thing is the fabulous commodity known as POCKET MONEY! Obviously if you are now a family with four children then you will have to budget carefully for this one otherwise you could end up being just as stressed out about your overdraft as you were about the state of the house! Drawing up a chart/list or plan is really the only sensible way forward, and a family meeting will be required to thrash out who is going to do what.
Be Fair But Firm
A truly organised rota/reward system to help with chores is a brilliant way to get everyone on board and working together but it must be fair and you must be firm about how it will work. Children of different ages will have different capabilities and so make sure that their jobs are matched to their ages and abilities. Teenagers are perfectly capable of ironing themselves a shirt, cleaning the car and running the hoover round once a week, whereas an eight year old can easily tidy their bedroom and feed the family cat.
What do Points Make? PRIZES!
Keep a tally of everyone's jobs and allocate an amount of money per task. It's only fair that older children should receive more pocket money than their younger siblings, but it is up to the parents to ensure that jobs are done properly and on time - the whole point of this exercise is to make everyone's life easier after all. At the end of each week you could treat the family to a take away, look over the jobs list and then dish out the 'wages' in time for the weekend. Perhaps offer someone a bonus for bringing you both a cup of tea in bed on Saturday morning!
You might also like...