Defining the Role of a Stepparent in the Household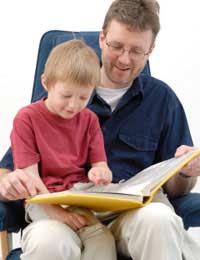 Each family is different as has a unique vision of how they hope to live, but in order for their goals to be achievable, each member needs to be aware of what is expected of them. Stepparents are often in uncharted waters when they first join a family, but it important for them to understand what role they will play in the family dynamic.
Friend or Disciplinarian?
Many stepchildren express objection to the notion that they will be expected to view their stepparent's as authority figures, but in most stepfamilies, both adults in the household play a part in establishing and enforcing house rules. It can be difficult for stepparents to win the affection of their step-kid's when they must also dole out punishments, but as long as discipline is fair and done with firm kindness, the children will ultimately adjust and accept that their stepparent has their best interests at heart.
Parenting Partners
No matter how a particular stepfamily chooses to define their roles and share responsibilities, it is important that both adults in the house are in agreement about the role that each of them will play regarding the children. In order for couples to work well together, they must support one another and make their decisions as a team.
Providing children with examples of how good partnerships work will help the kids to understand the importance of working together and treating people with respect, both of which will come in handy as they go about their lives. Children who are raised in households where family members interacted with kindness and decency have a solid base built for them as to how to function well in society.
Working with Exes to Raise Children
When stepparents join a family, they often find that their spouse's ex partner is resentful of their presence – if not in the romantic relationship, at least in the one that is being developed with the children. To a degree, the uneasiness is understandable; sharing a parenting role with a stranger cannot be an easy thing to do, but stepfamilies work best when the adult members find ways to accept and support one another.
Whenever possible, parents should encourage cooperation between themselves, their current partner, and their ex so that they can work together to raise kids who are happy and well-adjusted. Of course, such teamwork cannot be forced, but when both of the children's natural parents are willing to include the kids' stepparents in the decision making process, family squabbles can be kept to a minimum, making life easier for them and their children..
Respect is Required
While not all parents approve of their children being disciplined by one of their stepparents and are not comfortable allowing the stepparents to take part in making decisions regarding the kids, the children still must be taught to treat their parents' spouses with respect and common courtesy. Each family must decide for themselves what role stepparents should play in matters concerning the children, but it is never alright for kids to be outwardly rude or insolent toward their parents' partners.
You might also like...
My partner and I have been together a year , we moved to live with him so huge changes that I have help with for my children . My partner has a daughter from previous marriage , he says yes to all her requests no matter what he has on his plate . Granted she is here twice a week , my two children feel he completely spoils her by never saying no but he's happy to say no to my kids on the days she's not here. It's starting to shake our foundations as he doesn't think he's like this at all .
Loula
- 15-Apr-16 @ 11:14 AM