Challenges of Being a Step Child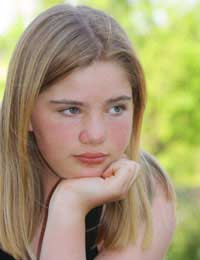 When stepfamilies are formed, it is because of the decisions that the adults have made, with or without the approval of the children in the family, so the challenges of being a child dealing with change in their living situation can be an emotional experience. Stepfamilies are often examined from the perspective of the parents, focusing on their experiences and challenges, but being a step child comes with its own difficulties.
Adjusting to Life Changes in Stepfamilies
When a parent marries, they are taking a leap of faith that their new spouse will form a close and loving bond with their child, but part of that desired result lies in the hands of the child. Children are expected to adjust to a variety of life changes after one of their parents remarries, but this transition can take a bit of time. Oftentimes, a child's everyday life is changed dramatically, which can be one of the greatest challenges for them.
Sometimes a child changes residences when their parent marries, sometimes new people move in to their home. Almost always, kids are expected to adjust to a new set of house rules and may have to make changes to accommodate the needs of step-siblings. It can be quite difficult for children, especially those who have been accustomed to spending a great deal of time with just their natural parent, to suddenly be thrust into a larger family environment where they may feel a bit lost and invisible. Parents and stepparents need to work to see that each child in their family receives plenty of love and attention, and that each is encouraged to express themselves freely.
Recognising that Parents will Never Get Back Together
Many children of divorced parents harbour a secret hope that their mum and dad will one day work out their differences and reunite. While this is usually not the case, the remarriage of one or both of their parents can serve as an unwelcome reminder that their natural parents have moved on and will not be rekindling their relationship. Unfortunately, a child's emotional reaction to this realisation may cause them to lash out at family members, especially their stepparent, who they may see as the reason that their family will never again be as it once was.
Love and Loyalty for Stepchildren
Adult relationships can be complicated and although most parents understand the importance of keeping their children out of their disagreements, unresolved feelings can make grown people behave quite badly at times. Sadly, when a child sees their parents battling, they may feel pressured to take sides, declaring their loyalty to one parent and shunning the other. When a stepparent comes into the picture, the situation is often magnified, with natural parents consciously or unconsciously sending the message that it is not okay for the children to love (or even like) their ex's new spouse. Being put into such an awkward position is not fair to children, who have the right to love both of their parents and to develop warm relationships with stepparents and step-siblings.
Finding Happiness as a Stepchild
Ideally, the children in stepfamilies would be encouraged to express their feelings, and then parents and stepparents would do all that they could to help the kids to feel good about their family situation. Reality often falls somewhat short of perfection, though, so many kids must struggle to find a balance that works for them and their unique situation. If the adults in families make it a priority to put their children's well being first, and choose not to act on their every negative emotion, stepchildren can find that their families provide them with a wonderfully loving and supportive start to life.
You might also like...
Thanks this really helped and described how I feel!!
Holly
- 30-Jul-17 @ 9:20 AM