The Challenges of Step Parenting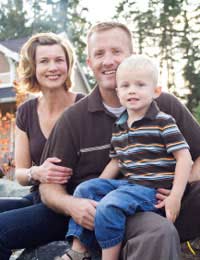 Ask any mum or dad and they'll tell you that every stage children go through has its own unique challenges, but for stepparents, the difficulties can be especially troublesome since stepparents may not have the support of others, who sometimes view them as somehow less involved than "real" parents. Many stepparents take responsibility for a great deal of the day-to-day care of their step-kids, though, and on top of that, are likely to encounter a few hurdles that natural parents never have to consider.
Building Bonds with Stepchildren
Children are often hesitant to welcome a stepparent into their families and it can be a challenge for them to convince the kids that they are not out to make their lives difficult. Many children feel torn about their loyalties when of their parents remarries, worrying that by growing close to the newest family member, they are somehow betraying their natural parent's love. As much as they may want to be accepted by the children, stepparents cannot force their feelings, so they must simply offer their love and support without expectations and then wait for the kids to come around.
Handling Discipline in Stepfamilies
Matters of discipline are often mentioned by stepparents as one of their greatest challenges. Children may object to taking direction from someone other than their parents, and some parents fail to offer support to their spouse, which only enforces the kids' desire to disregard the authority of their stepparent. Parenting responsibilities are often in the hands of stepparents, especially those who live with the children for the majority of the time, so the kids need to follow the instructions given to them, though. Ideally, both adults in the home should decide on reasonable rules for the children to follow, along with set consequences if the kids choose not to comply. When children realise that their natural parent expects their cooperation, they are often less likely to be blatantly disobedient.
Being Respectful toward your Spouse's Ex
Ex spouses or partners are often resentful of their children's stepparent – which may stem from unresolved feelings that they still hold for their ex. Even those who have no residual emotion attached to the failure of the romantic relationship may be uneasy about sharing their children with another parent, and these complicated feelings can lead them to behave in ways that are disruptive to family life. While a stepparent's bitterness toward their spouse's ex may be understandable (and even warranted), it only makes matters worse when they choose to act on their emotions. Smart stepparents recognise the challenge before them and refuse to engage their stepchildren's other parent in any type of conflict. Not only does that sort of behaviour encourage ongoing battles, but it sets a poor example for the children.
Managing Family Responsibilities
Frequently, stepparents had a full roster of activities before they married, so the additional tasks that come along with joining a family can present a challenge, both for their time and energy levels. In many modern families, both parents work full time and then must come home to tackle their responsibilities of home and family, leaving very little time leftover for rest and relaxation. Additionally, today's kids are often busy themselves with assorted clubs and lessons, most of which their parents and stepparents must either attend or at least provide transport. For stepparents who have not been used to running at full speed, the full schedule of family events can feel overwhelming at times.
While being a stepparent has its challenges, most who have taken on the role wouldn't trade it for anything in the world. Certainly there are moments when parenting responsibilities can be taxing, but those who are fortunate enough to have children in their lives understand that despite all of the work and worry, there is no undertaking quite as rewarding as being a parent.
You might also like...