Maintaining a Relationship With Your Child's School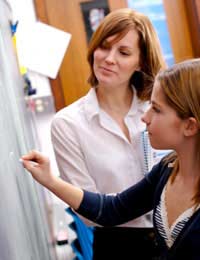 Becoming a blended family is a big step and a change in your life that requires careful handling and consideration. It is not just you, your partner and all your children who are affected by this change but other people in your life such as relatives, close friends and your children's teachers.
Talking to Teachers
Teachers are very accustomed to dealing with the effects of couples separating, re marrying and step families being formed. Whereas once upon a time it was rare to have single parents, divorcees and step children in a school, today it is common place and consequently teachers are better equipped than ever to handle problems that may arise.
Communication
When you have made the big life changing decision to become a blended family and have moved in to either your new house or moved in with your partner life will be busy and very different! You may find that for a few months you scarcely have time to catch your breath let alone think about setting up meetings with teachers. Therefore it is a good idea to discuss your plans with your children's schools before you actually move in together.
Happy News!
Starting a whole new family is very happy news and everyone around you will no doubt be delighted that you will all be living together. School staff will be equally pleased for you and will want to share the excitement and changes with you. If your children are to stay at the same school then the teachers will already have a good relationship with you as a family and this will really help to make the transition smooth.
New Schools
If you are moving and changing schools then it really will be a time of upheaval. Not knowing a soul can be pretty scary for adults as well as children so take time to go and meet with your children's new school or schools to make sure that everyone is aware of your new situation.
Changing Times and Changing Behaviour
Your children will all be familiar with each other, but living together and sharing the same space will be very different and emotions may well be running high for a few weeks! School will be affected and you may find changes in your children's behaviour - both good and bad. It is best to accept early on that there is bound to be a certain amount of 'fall out' arising from your new situation, as this is to be expected.
You may find that your children's behaviour is the same at home but changes once they get to school. Again this is normal and it is a good idea to ask teachers to try and keep a close eye on your children in those first few crucial weeks. Most primary schools still operate the home/school book system as a means of communicating any problems or news between teachers and parents and this is a simple and very effective way for you all to pick up on any significant changes.
Happy Days Ahead
Becoming a step family having been single parents for a while is a big step, but a happy and positive one. Keeping in touch with your children's schools (however many there may be!) is a great way to keep on top of things and to really make sure that everyone settles in well, feels safe and secure with their new situation and knows that they now have a bigger family and lots of fun times ahead!
You might also like...