Finding Common Ground and Shared Interests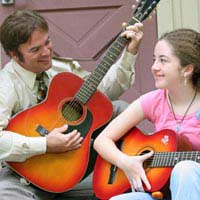 Every parent who has raised a teenager will attest that the teen years can be turbulent, but by remaining actively involved with their teens, many parents find that they can maintain a close and loving relationship. Stepparents may have additional difficulties, especially if they are new in the lives of the teens. Finding common ground, such as sharing a hobby can give stepparents and teens something to keep them bonded during the difficult transition years.
Introducing Teens to your Hobbies
Stepparents can sometimes find themselves the unenviable position of being on the outside looking in, even in their own homes. If their stepchild is a teenager when they first join the family, they haven't had the benefit of being part of the child's life and having a firmly established relationship before the trademark difficulties of adolescence kick in, making it that much harder to find common ground. Nonetheless, there are ways that stepparents can connect with their teenage stepchildren if they are willing to be patient and look for creative ways to spend time together.
Introducing a stepchild to a hobby that can be shared as a family is a great way to help them to get to know their stepparent as more than merely their parent's spouse. In order to feel a true and lasting relationship with their stepparent, teens have to feel a connection that goes beyond simply living in the same house; they need to have something in common that gives them something to talk about and participate in together. Many adults have a hobby that can serve as a perfect way to bridge the gap between them and their teenage stepchildren.
Participating in Life Sports with Teens
Depending on the nature of the hobby, some activities can offer teenagers the gift of helping to keep them active and physically fit, both in the short and long term. Life sports are those that are often enjoyed by people of many ages, making them popular choices for family activities because they can be enjoyed by several generations. Kids, teenagers, parents, and grandparents can get together to play golf, swim, or go horseback riding, all activities that take the idea of a hobby and make it a lifelong (and healthy!) passion.
Rewarding your Teenage Stepchild's Good Choices
All people enjoy being noticed and getting the occasional pat on the back, and teenagers are no exception. While they may profess not to care about the opinions of their parent's and stepparent's, the opposite is usually the truth. Stepparents who wish to get on the good side of their teenage stepchildren may want to look for the things that they admire about the kids and then point them out. Directing the focus on the positives, rather than on the teens shortcomings will help them to understand that their stepparent's care about them, appreciate their unique gifts, and truly want to build strong relationships.
Finding a Good Balance with Teenagers
Teens require guidance and discipline, but they are no longer the children that they once were, needing someone to oversee and direct their every action. Being a parent or stepparent of a teenager requires utilising a delicate balance of roles, from mentor to understanding sounding board. There is no need for influential adults to attempt to be their teenage stepchildren's friends – they likely have a few deep friendships with members of their peer group. What they do need is a consistent and loving bond with adults who have a genuine affection for them and care enough to not only spend time sharing a hobby, but also to rein them in when the need arises.
You might also like...