Talking and Listening to your Teenage Step Child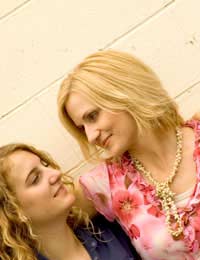 Good communication is essential for the success of any relationship, but when dealing with a teenager, it is vital to find just the right balance of talking and listening. Teens may give the impression that they aren't listening to the messages that their parents and stepparents are trying to give them, but most are paying more attention than they'd care to admit, so it's important to be aware of the influence that adults have on their teenage family members.
Offering a Friendly Ear to Teenage Stepchildren
The teen years can be confusing; on one hand, teenagers are asked to behave and control themselves as adults, yet they are often treated like children by their parents and stepparents. Listening to what teens have to say and making the effort to understand their viewpoints can give stepparents great insight into the hopes and dreams of their stepchildren, as well as helping them to open lines of communication that may have been strained due to the teens' reaction to their parents' divorce. Sadness and anger are both common amongst teenagers who are old enough to have strong opinions about their parents' failed relationship, but once they've had the chance to bond with a stepparent who cares enough to lend a willing ear, many teens realise that while there are aspects of their parents' relationship that they may never understand, neither of their natural parents set out to hurt anyone.
Many teenagers also find that because their stepparents haven't always been a part of their lives, they may be less inclined than their natural parents to view them as the children that they once were. Having the benefit of communication with a caring adult who they feel views them as they are, without preconceived notions, can be appreciated by many teens.
Staying Neutral in a Teen's Family Conflicts
One of the biggest challenges facing stepparents of teenagers is to refrain from stepping in when conflict arises between the teen and either of their natural parents. Disagreements are an almost unavoidable part of the parent/teen relationship and all too often, communication comes to a screeching halt as both sides stubbornly refuse to compromise. Stepparents can sometimes provide a voice of reason when tempers flare, maintaining a neutral position and trying to keep both sides happy and willing to keep the lines of communication open.
Advising Teenage Stepchildren
While stepparents are often in a position to offer advice to their teenage stepchildren, they must exercise caution so as not to go against the wishes of the teen's natural parents. Ideally, teenagers are comfortable enough with their parents to go to them for counsel, but that's not always the case. When advice is requested, stepparents must weigh their options and give the teen sound advice while not overstepping their boundaries by recommending actions that they know would be outside of the guidelines that the teen's natural parents have set. Sometimes, it's wise to do more listening than talking when communicating with teenagers; when given the opportunity to work through their problems aloud, they are often able to come to their own conclusions.
Honouring the Feelings of your Teenage Stepchildren
Teenagers tend to be emotional and can react strongly to situations that adults take in stride. Parents and stepparents may want to remember back to when they were teens before minimising the feelings of their adolescent kids, though, or they risk alienating their teens who may feel that they are being misunderstood. The teenage years can be confusing for many kids, who are trying to figure out who they are and what their place is in the world. By listening with care and compassion and making every attempt to refrain from being judgmental, stepparents may find that they can provide their teenage children with a safe place to go when they have questions or concerns.
You might also like...
@Serenity - boys and girls both. As soon as my daughter got to age 16 it was 'now I can do what I want'. It's impossible to control her. My friends say she'll come out the other side. I'm told they do, but for the moment it's like living hell. I can't control her at all. But there is nothing we (both my husband and I) can do.
Marie
- 3-May-18 @ 2:57 PM
I would like to ask how do you really make a decision if you've taken steps placed rules and my son 16 yrs old is angry rebellious and become violent. He's fought my husband several times. His father is not involved and was domestically violent towards me. I left my ex husband when he was 2 yrs old. He has been around my husband since 4 yrs old. He started acting out about 13 yrs old. I will admit its hard being a mother and a wife because there's times I felt; feel my husband could handled things differently and makes me feel he hates my son and I and there's ither times he's very supportive husband and forgives and displays healthy communication with my son and I. There's 5 boys total. He's the 2nd oldest. I don't know if he needs counseling;MEDs,rehabilitation or just continuous healthy relationships with family and girlfriend, because thats a problem as well.
Serenity
- 2-May-18 @ 3:20 AM