Teenagers and Step Siblings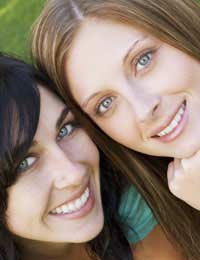 Ask any parent and they'll probably tell you that their children don't always get along. Brothers and sisters certainly love one another, but they also know how to battle and as they become teenagers, the fighting doesn't necessarily calm down. Parents and stepparents often feel that they are constantly reminding their children of their behaviour expectations, but there are steps that they can take to make their household a more pleasant and peaceful one.
Respecting a Teenager's Place in the Family
Reasonably enough, most teenagers resent being treated as children. If they've proven that they can make sound decisions, teens deserve privileges that are beyond what their younger siblings and step-siblings are afforded. Teens are at a stage when they need to learn to handle responsibility since they are almost ready to go out o their own, so trusting teenagers with important tasks is wise. Teens can provide examples for their brothers and sisters to follow, helping parents and stepparents to guide the youngest family members.
Affording Teenagers a Degree of Privacy
Teenagers tend to keep to themselves at times, but in large or blended families, teens can find it hard to find the space they crave to have a little privacy. Parents and stepparents can help minimise disagreements and drama between their children by setting down rules that provide for some time and space for their teenagers. Younger children are naturally interested in (and often awed by) their teenage siblings, but many older kids find it tiresome to have smaller siblings constantly under foot. Teens should be encouraged to interact well with their brothers and sisters, but if at all possible, they should also be allowed to have some time for themselves.
Setting Standards of Behaviour for Step-Siblings
Despite the fact that it is natural for children to fight, parents and stepparents need to have rules in place that require respectful interaction between siblings and step-siblings. Children should not be allowed to hit one another or to use language that minimises another, and it is up to the parents to set and enforce household standards of behaviour. Setting a good example by parenting with respect is a great start, and enlisting the help of the teenagers in the house is important, as well. While kids learn from listening to their parents speak, they pick up a great deal more information by observing the behaviour of those closest to them.
Offering Privileges to Kids and Teens for Good Behaviour
Most forms of discipline amount to a system of rewards and punishments. Kids and teenagers who behave as they are asked are likely to be rewarded with privileges and the approval of their parents. Positive discipline is the best way to encourage kids and teenagers to comply with household rules, interact with one another respectfully, and display a cooperative attitude. Punishment can be used as a last resort, but parents who are consistent in their plan to provide kids and teenagers with positive reinforcement are likely to be pleasantly rewarded with a family that interacts in healthy and supportive ways.
Helping Step-Siblings to Develop Close Bonds
Most parents and stepparents hope that their children will grow to develop loving bonds with one another that will last all throughout their lives, but many aren't sure how to go about helping the children to achieve this. Making time to have fun as a family can help a great deal, teaching kids to view their brothers and sisters as favourite playmates. Scheduling family mealtimes so that all members can be together on a regular basis to share stories and keep up on each other's lives is a wonderful way to help step-siblings to feel close and bonded, and encouraging the kids to participate in hobbies together is wise, as well. Every opportunity that a family has to focus on one another is a chance to reinforce the notion that family members can be great friends, too.
You might also like...
@Bud - couldn't agree more. It got to the point in my family that I has to remove all electronic devices from the dinner table. They now go into a draw for an hour (I put an hour curfew on them because they were rushing their dinners down in order to get back to their phones). So now I make sure we have a proper dinner together when and where we can. The kids were a bit tetchy at first but they are getting used to it now. It's good for them, phones and computers are terrible addictions for kids especially.
Izzy86
- 29-Sep-16 @ 10:52 AM
I have the problem of everyone on their electronics most of the time and no one is really talking or engaging with one another. We have a blended family and it's really hard to open lines of communication when the teenagers don't really have anything to say to the step parent or the natural parent for that matter.The comment I like in the article is where the family just needs to focus more on one another and to try to have fun together. Then it should be easier to communicate and open lines of conversation.I think all families should have monthly meetings just to see how everyone is doing and if you can help one another with anything. Mutual love and respect for each others needs and aspirations.
Bud
- 28-Sep-16 @ 5:25 AM