Fitting in with the Children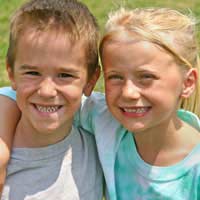 Children often thrive on routine, so when their lives undergo unexpected changes, such as when a parent remarries, they may take a while to adjust. Smart stepparents understand and respect the children's need for consistency and make efforts to fit in well with the existing family routine as much as possible, allowing a relationship to develop between them and their stepchildren gradually, at a pace that is comfortable for the kids.
Getting to Know Stepchildren
Everyone, children included, have a tendency to enjoy spending time with people who take a genuine interest in them and make an effort to get to know them on a personal level. Stepparents can help to build lasting bonds with their spouse's children by taking time to know each child as individuals, talking and sharing their many interests. Kids aren't looking for insincere accolades, but genuine expressions of appreciation are always welcomed.
Attending children's sporting events or other competitions is a good way for stepparents to show an interest in the kids – everyone loves knowing that they have a cheering section that is there to offer their enthusiastic support. Transporting children to their activities, welcoming their friends into the home, and making themselves available when kids need help with schoolwork or a bit of friendly advice can all help stepparents to endear themselves to their step-kids, too.
The Importance of Making Changes Gradually
Because children tend to do well when they know what to expect from day to day, parents and stepparents may want to implement changes gradually as they work toward blending their families. Most kids will form a good relationship with each of their new family members if given the time and space to do so in their own ways, but if forced to cope with sweeping changes all at once, many kids pull away and refuse to even try. Parents are wise to introduce changes in house rules, sleeping arrangements for the children, and other issues as needed, but preferably not all at the same time.
Sharing Pastimes with Stepchildren
Kids are most likely to readily accept a new stepparent if they find that the time they share is fun and interesting. Stepparents may want to introduce their stepchildren to their favourite hobbies, restaurants, and outings so that the children see them as more than just their parent's partner and new household rule maker. Children tend to be willing adventurers if given the opportunity, so stepparents may find that by including their stepchildren in their pastimes and inviting them to take part in games and outings, kids will soon view them as a welcome part of their family.
Building Close Family Bonds
Close family bonds take time to develop, but there are things that parents can do to help their children to feel affectionately toward their new stepparent. First and foremost, parents need to express to the children their desire to have their new spouse be given a fair chance. Often, that is all that is needed for a positive change to begin, allowing the kids to then form their own opinions as they get to know their stepparent. If they are shown that they are truly cared for and that their stepparent has their best interests at heart, most children will develop a love and appreciation for what their newest family member brings into their lives.
You might also like...