Your Relationship with the Children's Father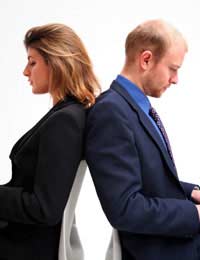 Divorce may signal the end of a romantic relationship, but if a couple shares a child, they will always be connected in some way. While it can be difficult to separate one's personal feelings over their failed marriage from those pertaining to their ex's connection to the children, it is vital to do so in order for families to interact in healthy ways. Children's needs must be put ahead of those of their parents, no matter how difficult that can be when emotions are running high.
Separating Your Feelings from Your Actions
While it is never okay for exes to take out their hostilities on one another in front of their children, that doesn't mean that they have no right to feel angry or upset over the events that led to the failure of their relationship. When couples make the decision to go their separate ways, there are almost always some hard feelings that remain and it can take a while for each partner to come to terms with their regrets. The trick is for each of the adults to deal privately with their feelings, without allowing them to have a negative impact on their behaviour, which benefits no one.
Providing Children with a Good Example
Kids learn from watching the adults in their lives and it is up to parents to provide their children with good examples of how to cope with difficulty. All people have hurdles that they must overcome at one time or another, but it is in how they choose to conduct themselves during tough times that can have the greatest impact on how their children perceive them.
Kids of divorce sometimes feel that their loyalties are being examined and this can be quite difficult for them since in all likelihood, they love and admire both of their parents, whether or not the adults have earned the children's respect. By behaving in a sane and rational manner toward their ex partner, parents can show their children that even if they live in separate homes, they are still part of a family that cares enough for them to be respectful of their needs and emotions.
Seeking Financial and Parenting Support
Too many parents fail to provide financially for their kids once they've separated from the children's other parent. While the reasons vary, from simply being short on funds to harbouring resentment at the idea of contributing to the household in which their ex resides, there is no good excuse for letting their children suffer because of the shortcomings of their parents.
Organisations such as the Child Support Agency (CSA), which is a part of the Child Maintenance and Enforcement Commission, are in place to help parents collect the financial support that they need to provide necessities for their children's well-being. Non-residential parents have a legal obligation to provide for their minor children, and the CSA can offer a number of avenues to help residential parents get the funds that they have coming to them.
Ideally, ex partners who share a child will work together and provide each other will emotional support, as well, but unlike financial responsibility, which can be enforced by law, other aspects of parental responsibility are harder to guarantee. Residential parents may be able to garner some support and cooperation from their ex by behaving in a kind and respectful manner, but in the end, it is up to that person to decide for themselves how much influence they will have in their children's lives.
The Importance of Flexibility and Cooperation
Parenting isn't easy, even under the most ideal circumstances; kids get sick, they misbehave, and their needs can often feel never-ending. Parents can offer their support to one another, which can make the job easier on both partners, or they can engage in a constant battle of wills, which is sure to prove more stressful for both parties.
Too often, exes focus too much on their personal differences and forget that no matter what has happened between the pair of them, they are still partners in parenting, and that stubbornness and a refusal to put the past behind them only makes their task more difficult. In order to make a change, one parent must decide to improve their own behaviour and choose to be as flexible and cooperative as possible. Sometimes, once one parent has softened a little, the other will follow suit.
Finding Appropriate Outlets for Negative Feelings
Few people are able to end a relationship without feeling the need to vent their feelings. While it would be inappropriate for parents to use their children as sounding boards when it comes to discussing the pitfalls of their failed relationship with the kids' other parent, finding an outlet for those emotions is a healthy thing to do.
Most people turn to a close friend, who can be an especially favoured choice because that person is likely to side with them and confirm their feeling that they were in the right and that their ex partner was an ungrateful lout, but some prefer not to weigh their friends down with ongoing negative conversations.
If emotions regarding their ex remain unresolved, they can cause conflict in other areas of their lives, so parents who have difficulty putting the past behind them may want to consider seeking the advice of a trainer counsellor, who can help them to sort out their feelings and move on in a healthy way.
You might also like...