Forming a Bond with your Step Daughter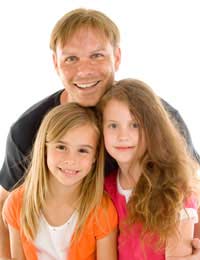 The father/daughter bond is an important one for girls, but many girls today are raised in single parent households, typically by their mums. When a girl doesn't get to have a warm, loving relationship with her dad as she is growing up, she misses out on the opportunity to learn about all of the gifts that men have to offer. By opening his heart to his wife's daughter, a stepfather can provide his step daughter with a strong male role model, one that she can refer to when she is old enough to decide for herself what she is looking for in a mate.
The Importance of a Father/Daughter Bond
Anyone who has ever gotten misty-eyed as they watched a bride dance with her father at her wedding reception understands how precious the bond can be between a dad and a daughter. Fathers play important roles in the development of their daughters, helping them to develop good self esteem by encouraging their efforts and providing them with a standard by which they will someday judge the men in their lives.
Being a good dad doesn't require that a man has an impressive job or a lot of money; good dads are the ones who spend time, listen, and offer encouragement and sound words of advice when their daughters come to them for help. Great dads make themselves available in the little everyday ways, showing their daughters that good men can be strong and gentle, all at the same time.
Understanding Girls
Many daughters look up to their fathers when they are very young, but as the years progress, some grow distant because their dads don't understand how to interact with girls, thinking that they are much different from boys. In reality, though, daughters and sons need much the same things from their dads – love, consistency, and the feeling that they are valued and appreciated. There is no need for a dad to pull away from his daughter just because she is no longer a little girl; girls and even women benefit greatly when they have a dad who is both physically and emotionally available to them.
Introducing Step-Daughters to your Hobbies
When a dad is at a loss, looking for activities that he can share with his daughter, he may want to consider introducing her to some of his hobbies. Whether he likes playing golf or fixing up old cars, most girls would be delighted to know that their dads wanted to spend time with them and include them in the things that they enjoy. While many daughters do prefer traditionally female pastimes, most would also be willing to learn about the things that their fathers think are fun, as well.
Encouraging a Step-Daughter's Achievement
All children benefit from knowing that their mums and dads are supporting their growth and development, but for girls, there is a special importance to the encouragement that they get from their fathers. For most women, the first man they loved was their dad and by providing girls with love and support, fathers can show their daughters that they have the potential to be anything that they want – to dream big and have the courage to try and make their dreams come true.
You might also like...
@Swans - it happens all the time. But it's not your S-D fault. If you see it from her perspective she has been wrenched from her father and her mother has a new man who has in her eyes taken his place. It's understandable that her loyalty will be torn and as she is so young those feelings are near to the surface and not hidden. It will take time to build a bond with her and only kindness and warmth can help. She is young enough to not be influenced and accustom herself to the new situation over time. Try taking on a teenager like I have who hates you and is large enough to be able to seethe in their resentment of you and be offhand and strategic in their manipulating ways. At least you have a blank canvas to work with. Mine is a constant uphill battle!
Aid78
- 9-Aug-18 @ 10:23 AM
I have a two year old step daughter. I live with her and her mum, but her dad has here two days a weekm whenever.I think things are going well, something happens to ruin it. I picked her up from nursery the other day, she didn't want to be picked up by me and just cried and screamed daddy. It makes me feel like I will never have a bond with her, and I'm struggling to force myself to like her, let alone love her. This sounds terrible, but kinda hope someone else has felt this way too.
Swans
- 8-Aug-18 @ 8:36 AM
@Minion: we really know too little to give you proper advice, but generally speaking to rebuild any relationship you need to take baby steps. Is the girl seeing her dad anymore at all? Where and for how long/how often? Maybe you can spend a few minutes with them then. Just saying hello and goodbye, wishing them a nice time, asking if they had a nice time, expressing a hope you will see her again. A little introspection might also help: did you treat them differently? Maybe you owe her an apology and an explanation. Even if you didn't do anything wrong per se, if you were snappy or curt because maybe you had a bad day or was tired or rushed, she might take it harder than you intended, just becasue she is insecure in her relationship with you.
cyanna
- 5-Aug-17 @ 5:09 PM
What do I need to do to get her to trust me if I can't be in the same house with her and her mum
Minion2017
- 21-Jul-17 @ 5:15 PM
@Minion2017 - time is the great healer in situations like this and communication. You have to begin to treat her the same as her brother and give her reasons to trust you. But it might not resolve overnight, it could take a while.
Aries
- 21-Jul-17 @ 2:56 PM
I have 9yr old step daughter who is scared of coming home to me because I don't treat her like her brother and I always push her out and tell her off. What can I do to change that relationship with my step daughter and to win her trust back
Minion2017
- 21-Jul-17 @ 2:50 PM
Hi. Im a 26 year old unmarried guy. I have a close relationship with this 4 year old kid who has a mother but is bio father abandoned him. He never even seen him , not even when he was born. This kid calls me papa and I call him son. What word describes that reltaionship?
Bols
- 21-Sep-12 @ 8:08 PM
Having read this article makes me wonder why I am so criticle on my step daughter and cannot seem to find connection with her????
Panda2073
- 8-May-12 @ 8:51 PM