Meeting your Step Children for the First Time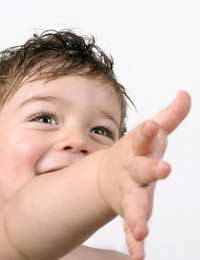 The first meeting between children and their potential stepparent may be anxiety provoking for both generations, but with a little preparation and support from the children's parent, all should go smoothly. Even on occasions when the meeting doesn't turn out ideally, stepparents can take heart in knowing that they'll have plenty more chances to have pleasant encounters with their stepchildren.
Preparing Children to Meet Your Significant Other
Before a parent arranges for their children to meet with their significant other, they should prepare the kids by telling them a little about this person. Ideally, kids are invited to meet a parent's partner once the parent realises that the relationship is going to be a lasting one, but before they've decided to marry, giving the children plenty of time to develop a relationship with their parent's mate before news of a wedding is mentioned.
Of course, the amount of preparation that children need varies, depending on a number of factors, including their ages and maturity levels. Young children need only know that this new person is Mummy or Daddy's special friend and while older kids can understand the nature of romantic relationships, they may take a while to accept that their parent is interested in (and capable of!) romance. Even grown children may exhibit some hesitation about their parent finding someone to love – it is usually not from selfishness that their concerns stem, but merely an adjustment to seeing their parent in an unfamiliar light.
Taking it Slow When Meeting the Children
Potential stepparents should not expect to meet their partner's children one day and be the best of friends the next. All relationships take time to develop and when children are involved, care must be taken to progress only at a pace that is comfortable for them. In most cases, that means taking things slowly; gradually taking a larger role in their lives so that the transition feels natural, and not forced.
Taking an Interest in the Children's Lives
Before meeting a partner's children for the first time, it can help to know a little about them. Understanding the activities that interest them (even if it means doing a little research!) and knowing a bit about their favourite sports, foods, and celebrities can provide great topics of conversation so that the first meeting doesn't feel stiff and uncomfortable. One would never dream of going into a job interview unprepared, so it makes sense to plan ahead to have a successful meeting with the children of your significant other – after all, the stakes are much higher!
Assuring Kids that You Aren't trying to Replace their Other Parent
One of the main reasons that kids may hesitate in forming close attachments to the people that their parents are dating is the worry that a stepparent will interfere with the relationships that they have with their natural parents. Potential stepparents can reassure their partner's children that they have no plans to disrupt the kids' lives by respecting the kids' feelings and honouring reasonable boundaries when dealing with their partner's ex. Kids should never be made to feel that their loyalties to their natural parents are jeopardised by the introduction of a stepparent.
You might also like...
I'm 20 years old I'm Dating my boyfriend who is 27 yes 7 years apart for me it's not a big difference he has a 6 year old son who shares custody with his ex Wife I'm meeting him next weekend but super nervous on where to go I was thinking maybe the zoo or a kids place ? Should I buy him a little gift ?
Zany
- 28-Jan-18 @ 6:06 PM
So little bit of a question here I am having some serious anxiety when I'm going to meet my partner's children. I'm talking nightmares, full-blown panic attacks, the whole nine. The mother is still in the picture and he does not have full custody so they (2 boys 9 and 4) live with her and he goes down to see them about twice a month. I guess my question basically is how to handle -not even being a stepparent- but how to handle my fiancé having a completely separate life from me, and what to do when these paths finally do merge.
Amy
- 16-Aug-17 @ 7:38 PM
@Gitters - I'd be more concerned about how the kids get on with each other and it'll take more than one meeting for your to decide whether everyone gets on or not. In fact it will take a fair while as the dynamic that happens when you meet your partner's kids could change at every meeting. Chill out and relax is the best advice - what will be will be. There are a whole lot of different dynamics to take on board - your relationship with his kids, his relationship with yours, the kids relationship with each other and how it affects each of the siblings individually. So, I'd have no worries about his daughter, I'm sure she'll be fine. Good luck - you'll be fine too <3
Rache
- 26-Apr-17 @ 11:49 AM
Hi only thing is HELP!!! Meeting my partners children tomorrow night, he has a girl and a boy I have 2 boys, I don't know what to do with a girl! I am stressed out to the point of nausea we are wanting to move in together so its one chance one shot to make a connection! HELP!!
Gitters
- 25-Apr-17 @ 12:52 PM
Poppy - Your Question:
Thank you! Have you got any suggestions on presents? Or I was thinking a game? Any suggestions would be greatly appreciated ??
---
Our Response:
You really only need to buy something small for a first meeting. You might want to go on a well known store website to see toys aimed at two-year-olds, or pop into a toy shop where the staff can help. Dolls are always good, as are the likes of farm animals etc. Looking for something that will help entertain your boyfriend's child will help, as it will take the emphasis off your own concerns by distracting her. This also means she will be able to play with the toy(s) while you and your boyfriend can perhaps have a coffee and talk. Of course, small peices are not good as kids will invariably put them straight into their mouths. I hope this helps and enjoy your meeting.
BeingAStepParent
- 7-Feb-17 @ 11:58 AM
Thank you! Have you got any suggestions on presents? Or I was thinking a game? Any suggestions would be greatly appreciated ??
Poppy
- 6-Feb-17 @ 5:16 PM
@Poppy - just be natural. A little present always helps break the ice when you meet a child for the first time. Two years is a good age as they are still very adaptable and have not formed strong opinions. You'll be fine - just be yourself. Good luck. Jill.
Hi I'm 19, my boyfriend is 23, he's got a two year old daughter who I'm meeting for the first time this weekend. I really need advice on how to handle this! I've thought about getting her a little present? I also don't have much experience with young children so I don't really know how to act, what to say etc. I'm quite a shy person so I'm scared she won't like me if she thinks I'm holding back?
Poppy
- 5-Feb-17 @ 10:18 PM
hi i seriously need advice on a sticly situation please, well im not a stepparent yet however me and my fiancè r engaged for 3yrs now and i havent met his children for the 5yrs we've been together. This story has a whole history jealous baby mama with a lot of scheming from her side, tellin me via texts that im msssing with my fiancè's relationship with his kids even whe n he made time 4 yhe kids supporting financial and doing what a daddy must do lot more tales thn this, recently we had our on litgle bundle of joy through all this dramà, a misscarriage and finally a babyboy i never met the children till some days back at a family members party from his side. We talked to the one child one side later called me so that wecan meet so he he said child this is aunty my luna and this is ur lil bro childs eyes filled with tears and aid with a bad attitude this is not my brother walked away i stood there shocked at this whole reaction father ran after child while i stood there.Can someone please tell me why he reacted in that manner ?? we never met we dont know each other. I felt sad and angry at the same time but i was too shocked
Luna
- 18-Oct-16 @ 9:40 PM