Balancing Discipline and Friendship as a Stepparent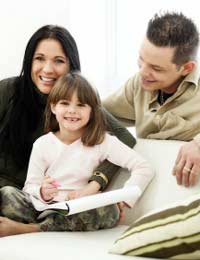 One of the responsibilities of every parent is to provide consistent discipline, but for stepparents, who may hope to become a friend to the child as well as a parental figure, finding balance can take some time. It is important that stepparents take some role in discipline, especially if the stepchildren live with them the majority of the time, but forgetting to make time for fun can give real-life stepparents the reputation that matches what they often have in fairy-tales.
Defining the Role of a Stepparent in the Household
Each family has its own way of dividing responsibilities and filling assorted roles, so when someone plans to take on step-parenting responsibilities, they should first be sure that they are on the same page as their spouse in outlining what role they are to take in household discipline. One cannot assume that their vision of the family matches that of their partner unless it has been discussed and some specific guidelines have been established.
Making Time for Fun and Games
All families need to make time to have fun together, but new stepfamilies may find this especially important. Kids, especially those school-aged and older can take a bit of time to accept a stepparent into their homes and hearts, but once they've had the chance to get to know their stepparent on a personal level, they may be more inclined to see and appreciate their positive traits. No one is likely to feel much fondness for someone who always seems to be focused on enforcing the rules, so stepparents who balance discipline with plenty of more pleasant interaction are helping to assure that their stepchildren will feel warmly toward them.
Earning the Respect of Stepchildren
It takes time to establish trust and respect, but stepparents who prove themselves worthy of their stepchildren's admiration will have accomplished something truly valuable. In order for a child to view their stepparents as trusted friends, they need to feel comfortable in expressing themselves openly and be secure in the knowledge that their stepparent will not betray their trust. Like all friendships, this relationship needs to be built on a solid base of genuine affection teamed with consistent trustworthiness. Gaining the respect of stepchildren not only helps them to establish a friendship with their stepparents, it also makes it easier for the stepparent to discipline since kids are more likely to obey when they trust and respect the person who is requesting something of them.
Partnering in Discipline with Natural Parents
While stepparents commonly take on a great deal of everyday parental responsibility, they typically do not have the authority to make sweeping changes to the children's lives – those decisions are usually made by the kids' natural parents. Many stepparents find themselves the brunt of the unresolved feelings that their spouse's ex may hold, but kids benefit when all of the adults in a family work together in a peaceful and respectful manner.
Children can be expert manipulators and are likely to take advantage of the differences of opinion between their parents and stepparents, so working together to establish basic rules of behaviour that are to be obeyed at all times can help kids to understand that discipline will be steady and consistent. When natural parents and stepparents are able to put aside their personal feelings and focus their attention on raising kids who are confident, happy, and self-controlled, the resulting family dynamic allows everyone to be proud of the way that they can balance friendship and discipline.
You might also like...
@Brooke - it's sad news about your husband. But, if it's important to your husband that his daughter's see him in the last days of his life, go out when they visit. I don't think I'd like to stick around.
Jen&*
- 8-Sep-17 @ 1:50 PM
Being in any situation with parenting is rough in teenagers! I am currently dealing with my husband(stepdad) and my 17 yr old butting heads. My son has lived with his natural father until he was 12. He decided he wanted to live with me after becoming very stressed and depressed at his dads. His dads home was very difunctional and unhealthy. A string of ex's led to homelessness and co dependancy on any woman that would have him. My son went hungry and without. Fast forward... when he came to our home my husband told him he would never try to replace his dad. And that he was just David. His moms husband.David had never been married and no children. Things went well in beginning. Then Cristians dad repeatedly broke promises for visits, and when he did he spent most time poking and proding for information about my home. The last time Brad saw Cristian i found out he got drunk and so did my son!! I immediately pulled visitation. This led to Cristian to a complete downward spiral in behavior. He refused to do homework m, chores, began to "do as he pleased" no matter the reprecussions. This has now led to my husband feeling betrayal, disrespected, and basically disgusted with my son. I have tried to educate myself and him on adolescent behavior to no avail. I am stuck between the 2 of them consistently at each others throats. Now my home lifeb is in shambles and constant tension. I am at my witts end!
Mrs Chandler
- 20-Nov-16 @ 6:27 AM
@TníG -Good luck - it sounds you might have your work cut out for you. Family meetings are a good idea - but it's hard when there is already an established family dynamic. But if you're a child professional, then at least it's in the best possible hands. I blame my partner as much as his son for my stepson's behaviour and that makes it a difficult situation even more difficult!
Tricky
- 15-Nov-16 @ 11:26 AM
I totally understand where you are coming from.I have a likewise situation of a10yr son of my partner.His Dad let's him away with temper tantrums when he doesn't get his way.I'm fuming as I'm a trained & experienced child professional& this is a major no no in my books.My son is terrified of him with his over ruling& loud behaviour.My relatives who met him have said he's hard work.I'm planning on setting up a family meeting& for us all to put a plan in place with agreed consequences if the rules are broken.My partner keeps making excuses for him but it's got to the stage my health is now suffering.Our silver lining is that his son is only with my partner ever second weekend.I hope this comment helped you
TníG
- 14-Nov-16 @ 3:04 PM
My step son lives with me, my partner, my two daughters 7 and 16 and the daughter I have with my partner 4.We have lived as a family for over 5yrs. My step son is now 13.He has always been stubborn and defiant.Getting him to do any chore or help is always a huge drama or battle.He never speaks to me unless he has to or to hurl insults.I am very unhappy at times and wish he was not here. I don't know what to do.
alexi
- 7-Jul-15 @ 11:33 PM